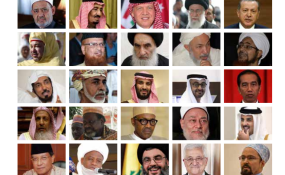 Photo: TheMuslim500
By Abdullateef Aliyu
Lagos — For a second year running, the National Missioner, Ansar-ud-Deen Society of Nigeria and Overseas, Sheikh Abdur-Rahman Ahmad, has been listed among the 500 most influential Muslims in the world.
This was contained in the ninth annual issue of The Muslim 500: The World's Most Influential Muslims 2018, published by the Royal Islamic Strategic Studies Centre, Amman, Jordan.
The publication put the current population of world Muslims at approximately 1.84 billion making up 24.38 per cent of the world's population.
The Grand Sheikh of the Al-Azhar University, Professor Sheikh Ahmad Muhammad Al-Tayyeb retains the first spot as the most influential Muslim on the face of the earth, while King Salman bin Abdul-Aziz Al-Saud of the Kingdom of Saudi Arabia, emerged as the second most influential Muslim. He was rated third in the 2017 rankings.
Aside the first 50 rankings, the latest edition of the publication also contains 25 Honourable Mentions, both of which were categorised in terms of Rulers and Politicians; Scholars and Preachers; and Social Issues, Media, Social Media, Arts, Culture and Sports.
The final 450 rankings were categorised into Scholarly; Administration of Religious Affairs; Preachers and Religious Guides; Social Issues; Business; and Philanthropy, Charity and Development, among others.
In Nigeria, Sheikh Ahmad was listed under Administration of Religious Affairs category, alongside Emir of Kano, Alhaji Muhammadu Sanusi II, JAMB Registrar, Professor Is-haq Oloyede, and a former head of the Nigerian High Commission in London, Prince Bola Ajibola.
Sheikh Tahir Usman Bauchi and Sheikh Yakubu Musa Katsina, were the only Nigerians listed under Preachers and Spiritual Guides category, while the Co-director of the Muslim-Christian Interfaith Mediation Centre in Kaduna, Imam Muhammad Ashafa, is the only Nigerian listed under Social Issues category.
The Chairman and CEO of the Dangote Group, Alhaji Aliko Dangote, emerged the only Nigeria listed under Business Category.