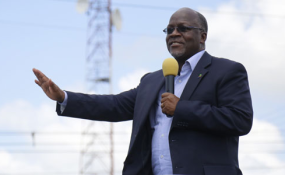 Photo: The Citizen
By John Namkwahe
President John Magufuli on Monday revealed that he has written to the Canadian Prime Minister in regard to the seizure of Tanzania-owned airplane, Bombardier Q400.
The airplane, which was supposed to be delivered in July, is being held in Canada after the Tanzanian government failed to pay $38 million (equal to Sh83 billion) owed to United Kingdom Stirling Civil Engineering Limited due to a contractual dispute.
The firm won the tender to construct the Wazo Hill-Bagamoyo Road but the government terminated the deal without paying compensation. The firm, successfully sued Tanzania at the International Court of Arbitration in Montreal Canada.
Addressing Kagera residents in Bukoba District on Monday President Magufuli said he has also sent the attorney general to Canada to work on the matter.
"They thought we would pay the money through intimidation. We will not. We will pursue the issue through legal channels," President Magufuli noted.
The President added that he is aware that there are other cases, which have been opened against Tanzania in foreign countries including one that was opened in the Air Tanzania Cooperation Limited.
"The issue in question involves a plane that was leased to ATCL five days before it was supposed to go for maintenance. The plane arrived in the country but it couldn't operate. But the lessor kept charging us despite that the plane was not technically alright," said President Magufuli.
President Mugufuli added that the company, which he didn't name, has opened a case in the UK demanding ATCL to pay Sh40 billion for termination of the contract.
However, the President expressed his optimism that the government will win the cases.
"Our lawyers should cooperate with the government to protect county's resources from being exploited," said he during a ceremony to open Bukoba Airport.