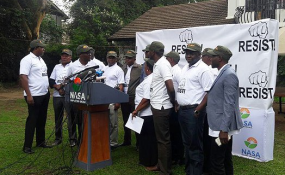 Photo: Nairobi News
The Central Organisation of Trade Unions has appealed to the National Super Alliance (Nasa) to consider its call to supporters to boycott products by some companies, saying the move would hurt workers.
Secretary General Francis Atwoli described the boycott call as dangerous.
"As workers, we are appealing to the Nasa leadership to consider that stand on the boycott in order to save jobs and create more employment for youth who are leaving our institutions."
"Cotu's economic and research department findings indicate that because of Raila's influence on Kenyans across the country, the boycott on those basic commodities including Safaricom's services, Kenya stands to lose between 70,000 and 100,000 jobs and that is why we are appealing to the Nasa leadership to rethink that call," he said on Monday.
JUBILEE 'FRIENDS'
Other than Safaricom, Nasa also urged Kenyans not to buy products from Bidco, a leading supplier of edible oils and detergents, and Brookside Dairies.
The Opposition accused the companies of supporting the Jubilee government, which it accuses of electoral injustice.
Nasa leader Raila Odinga says the boycott will be widened to cover other firms the Opposition accuses of working with Jubilee.
DEALERS
On its part, the Safaricom Dealers Association says the livelihoods of at least one million people will be directly affected if Kenyans heeded the Opposition's call.
The dealers, who addressed a news conference in Nairobi on Monday, said numerous agents around the country have been struggling to earn commission during the electioneering period, and the latest development would hurt the businesses further.
Mr Jerim Ouko, a director in the organisation, said there are more than 400 dealers and 400 M-Pesa agents giving businesses to more than 250,000 small outlets countrywide.
JOBS
Dealers are those who issue out M-Pesa lines and control vast regions, while small outlets are shops where ordinary Kenyans do their M-Pesa transactions.
In Kisii, Safaricom M-Pesa agents condemned the boycott, saying the move will result in job losses.
Through national chairman Alfred Nyangweso, the agents said the call was tantamount to sabotaging the economy.
INCOME
Mr Nyangweso said the money transfer service employed over five million people directly and indirectly countrywide and its collapse will result in massive unemployment.
"M-Pesa as one of the services offered by Safaricom has grown to be one of the largest sources of self-employment in Kenya and asking people to boycott Safaricom products will render many jobless," Mr Nyangweso said.
He said the service provides a source of income and livelihood to citizens of all regions regardless of tribe or political affiliation.