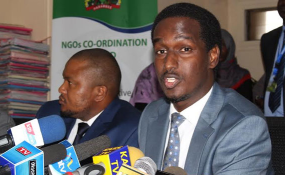 Photo: Capital FM
editorial
When the State begins targeting and muzzling independent voices, it signals a descent into totalitarianism.
Civil society, faiths, media, professional organisations, and lobbies exist to check governments.
They provide alternative voices and help to push genuine agendas governments may be unwilling to pursue.
But that is not to say they are infallible.
ELECTION PETITION
Increasingly, however, the government has become hostile to civil society organisations.
In August, the NGOs Coordination Board descended ruthlessly on some organisations, accusing them of legal and administrative breaches, while in actual sense, the objective was to stop them from filing a petition against President Uhuru Kenyatta's election on August 8.
The National Super Alliance went on to file the petition and won.
INTIMIDATION
Following President Kenyatta's victory in the October 26 rerun, which was boycotted by Nasa, some NGOs have vowed to challenge it in court.
In view of this, the NGOs Board has summoned some officials, accusing them of ridiculous breaches, while in actual sense attempting to bully them out of suspicion they might challenge the election result.
It is a pity that the board, whose chief executive, Mr Fazul Mahamed, is facing integrity questions, has resorted to acts of coercion, apparently at the behest of some shadowy characters in power.
The board must stop frustrating NGOs and other independent voices.