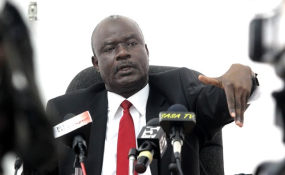 Photo: Daily News
RECOVERY efforts for the newly purchased plane in Canada has heated up, with the government dispatching Attorney General George Masaju for a legal battle in the North American nation.
President John Magufuli revealed yesterday that he had written the Canadian Prime Minister, asking him to speed up hearing of the case, which has delayed the arrival of the commercial aircraft, Bombardier Q400, in the country.
The plane was earlier scheduled for delivery to Air Tanzania Company Limited (ATCL) by last June. The aircraft was seized over the 38 million US dollars (over 83bn/-) that the Canadian Stirling Civil Engineering Limited claims from the government.
President Magufuli, launching Bukoba Airport in Kagera region, said the government has in two years bought six new commercial planes. "But, you have seen some people file cases. They thought we will just pay them but we opted to battle them in court, we know that they will file many more cases, it's obvious," he said.
Adding: "People will continue suing us, it's the responsibility of our lawyers to stand strong and defend our country." He was optimistic that the countries in which the cases are tried will speed up their hearings.
"I have for instance written the Prime Minister of Canada, telling him to ensure speedy hearing of the filed cases," he said, adding: "It's unfair for the plane to remain there idle for six months while we want it."
Acting Director General of Information Services, MAELEZO, Zamaradi Kawawa was once quoted as accusing some members of the opposition of, "Cooperating with foreigners to sabotage execution of development projects that President Magufuli has initiated."