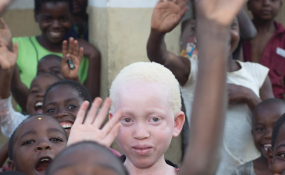 Photo: Amnesty
By Jonathan Musa
Mwanza — An international organization fighting for the rights of people living with albinism, Under The Same Sun, has revealed that violent acts against albinos in the country have continued to decline, albeit at a lower pace.
This was said here over the weekend by the director of the organization, Ms Vicky Ntetema, in a training seminar that attracted stakeholders from various institutions including social, education and health sectors as well as people living with albinism.
The training also stressed on how to report cases of violence against people living with albinism.
Ms Ntetema, who is also a media guru by profession, said it was high time the nation joined forces to win the fight against albino killings. She called on the government to conduct a review of its laws, especially on the police force.
"There are laws that must be reviewed to prevent and stop violence against people living with albinism," said Ms Ntetema.
On the other hand, Mr William Maduhu, a lawyer in the organization, said many cases of violence against people with albinism created conflict during rulings in court as many were clan-related.
"During court proceedings, it must be proven that evidence is sufficient without any doubt. Now that these cases touch on communal beliefs, it is difficult to get witnesses to cooperate because they fear 'punishment,'" he said.