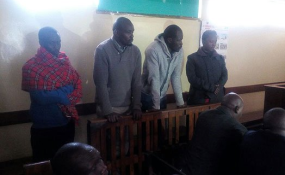 Photo: Daily Nation
By Eric Matara
A key suspect in the Saturday night killing of international rugby player Mike Okombe was Monday interrogated by detectives in Nakuru.
Ms Maryanne Mumbi's lawyer, Mr Kamau Chomba, confirmed that the woman -- said to be Mr Okombe's lover -- surrendered at Rongai Police Station before she was interrogated.
"My client surrendered to the police and she later recorded her statement," Mr Chomba said.
According to Rongai police boss Japheth Ngatwa, Ms Mumbi and six other suspects who were attending the birthday party, including the host, surrendered to the police.
The suspects were questioned before being handed over to Rongai Directorate of Criminal Investigations.
FIGHT
They were held at various police stations in Nakuru.
A source, who requested anonymity due to the sensitivity of the matter, said Ms Mumbi also accompanied police to the crime scene.
Mr Okombe, 27, was fatally stabbed during a scuffle at a birthday party in a house at Olive Inn in the town.
"They were at Mr Calvin Otieno's house around 7pm on Saturday night. The two were, however, involved in a scuffle when she went for a knife, which she used to stab Okombe," he said.