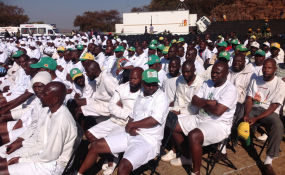 Photo: The Herald
Local white garment church (Apostolic Sect) leadership said if Zanu PF gives free housing stands to their members they would definitely vote for the ruling party in the coming general elections next year and Mugabe would easily romp to victory.
This was said by Bishop Johannes Ndanga who is the president of Apostolic Churches Council of Zimbabwe (ACCZ), a grouping of white garment churches which he claims has over two million members. Ndnga further claimed that he had issued President Robert Mugabe with a certificate to rule till death.
Addressing thousands of his Apostolic Sect and Zionist members at the Super Sunday Churches Interface with the First Lady Grace Mugabe, at Rufaro Stadium, Ndanga said their followers were responsible for Zanu PF victory in the 2013 general election.
"Beside free housing stands we also want free stands to build churches and we will then develop ablution facilities," said Ndanga.
"Another demand is Municipal police must stop harassing us and chasing away our members from open spaces they worship from."
The ACCZ president then said that there has never been anything good like the Sunday gathering ever done for the Apostolic Sect church, just to meet and be addressed by the First Lady.
The Bishop was wearing a white shirt emblazoned with the colours of the Zimbabwean flag.
"This is a blessing for the indigenous church, whatever the goals are for, this has to be done now and again not only this once," he said.
He then went on to say that despite being looked down upon in previous years the Apostolic Church is close to Zanu PF.
"If other church members voted for Zanu PF, we don't care, because they sometimes do things that have nothing to do with Zanu PF but the Americans and English," he said.
"But they will be lying to you."
"I Ndanga representing all Apostolic Sect members here and all those that are scattered around the country I handed over to him (Mugabe) the certificate that he will rule this country until he die," he added.
"So go and tell Mugabe that he has that mandate till his death."
"This was also prophesised by Johane Masowe in 1934."