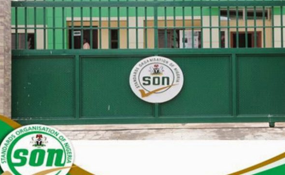 Photo: The Guardian Nigeria
By Kayode Ekundayo and Risikat Ramoni
Lagos — The Director General of Standards Organisation of Nigeria (SON), Mr Osita Aboloma, has called on the public not to compromise on quality by contacting the agency anytime they come across made in Nigeria products that do not have a certification logo.
Explaining the certification or quality logo, the DG said made in Nigeria products are stamped with Mandatory Conformity Assessment Programme (MANCAP) while the goods meant for export will be stamped with the Offshore Conformity Assessment Programme (SONCAP) mark.
Speaking at the Lagos International Trade Fair yesterday, Aboloma assured consumers that SON is presently working towards product authentication to ensure that consumers can know if a product is original or fake.
"There are people producing fake products. Such products are encroaching on the original ones. With every level of success, there are challenges. Whoever is caught faking products will be sent to prison through the SON Act. The law has empowered us to do that," he said.
Stating the guidelines for certification, the representative of the DG, Mrs Margaret Essiet, said "Before a product can be certified, you must be a producer or manufacturer. Our state offices will ensure they visit the location of the business for inspection to ensure it meets standards.
"Not meeting the standards does not mean the business will be closed down. Rather, they will be educated on how to meet the standards and the areas they need to improve so they would not continue to produce substandard products.
"The standards specify what the quality should be. If the process meets the required quality, we will start processing for MANCAP. Within a maximum of 60 days, MANCAP certification will be issued," she said.