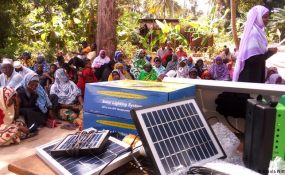 Photo: Ursula Wittekind/DW
Windhoek — Resettlement farmers must realise that climate change is a reality and must thus adopt smart agricultural practices including diversifying their farming enterprises.
This appeal was made by the Minister of Agriculture, Water and Forestry, John Mutorwa, at a Resettlement Farmers Day here on Friday.
He said keeping farm records is important and urged farmers to keep such for all purposes in helping them monitor the progress of their farming businesses.
The minister further implored the farmers to set themselves a vision and objectives to be able to reach their goals.
Turning to stakeholders, he urged them to uphold the common core values of improved service delivery, adding that they should embrace key success factors such as teamwork, communication, coordination, cooperation and collaboration among one another.
The minister also informed the gathering that the Capacity Building Strategy for resettlement farmers, in line with the cabinet decision of 2012 regarding a support initiative before and after resettlement, has been finalsied.
The day was convened by the Governor of the Khomas Region, Laura McLeod- Katjirua, for farmers who have been resettled in the region. Mutorwa said the main objective of the strategy is to empower farmers to utilise their farming units productively to contribute to national food security.
Land Reform Deputy Minister, Priscilla Boois, impressed upon the farmers their important role in Namibia's socio-economic and political development agenda as with ownership and access to land they have the power to contribute to food security at national, regional and international level.
She said the current trends of rising food costs have dire consequences on vulnerable communities, and thus the efforts of farmers can onwards have a positive impact on the escalating prices of basic commodities, contributing towards poverty eradication.
This was the fourth day of its kind for the Khomas Region since 2014 when it was introduced.
McLeod-Katjirua said that while a lot of challenges are faced in addressing both urban and agricultural land needs, the day is testimony to the fact that there have also been significant successes in addressing land distribution and inequality. The successes are that those benefiting from land redistribution are indeed making use of their farming land productively.
She said the government through the land reform ministry continues to support the resettled farmers in various ways such as infrastructure development and rehabilitation.
Boois lamented that farmers could not this year showcase their animals and other agricultural products at the day due to lack of resources.