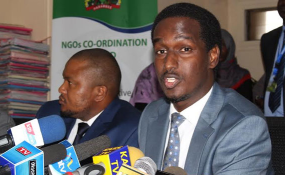 Photo: Capital FM
By Collins Omulo
The national umbrella body of non-governmental organisations has asked officials of the three NGOs summoned by the State regulator to honour the summonses.
On Sunday, the Civil Society Reference Group (CSRG) led by Suba Churchill had called on the officials to ignore the summonses, arguing that the NGOs Coordination Board and the Kenya Revenue Authority (KRA) lacked the legal and moral authority to regulate organisations registered under the NGO Coordination Act.
National Council of NGOs Chairman Stephen Cheboi called on the officials to honour the summons and appear before the committee in line with the values of the umbrella body which are transparency, probity, accountability, justice and good governance.
COMPLIANCE
"We champion for compliance and maybe they have seen something that those NGOs have not done. Let them do the necessary. We are asking them to appear before the committee and see what is before them," Mr Cheboi said.
NGOs Co-ordination Board boss Fazul Mahomed had last week summoned officials of Inuka Kenya whose chief executive officer is former Ethics Permanent Secretary John Githongo, Katiba Institute, which is associated with Prof Yash Pal Ghai, and Muslims for Human Rights (Muhuri).
However, Mr Cheboi said that they were looking into the crux of the summons and would give a comprehensive statement about the summons in due course after they have compared available information from all the sides involved.
"We are also assessing to see whether it was right or not to summon them. We are still looking at it and at the moment we may not have a comprehensive comment but definitely we will have one," he said.
PREACH PEACE
He was speaking in Nairobi on Monday during the launch of a partnership between the council and Global Veteran and Peace Ambassadors (Glovepa), a group of retired members of the disciplined forces who have resolved to preach peace across the country following the post-election impasse the country finds itself in.
Mr Cheboi urged President Uhuru Kenyatta and Nasa leader Raila Odinga, together with other political leaders, to reach out to one another and dialogue for the sake of peace.
"We are also reaching out to the leadership of this country that they become peace ambassadors. We want the country to remain peaceful and we are using this event to call for dialogue and to preach peace for this nation. We will therefore be going around the country with all our membership to ensure peace prevails in the nation," Mr Cheboi said.