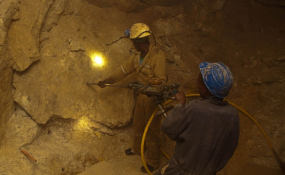 Photo: The New Times
By Obrein Simasiku
Tsumeb — Dundee Precious Metal's Tsumeb (DPMT) has vowed to continue honouring its commitment towards employees by providing affordable houses.
This was said recently by DPMT vice president Zebra Kasete, who emphasised that the company is investing over N$20 million to construct 115 houses for employees as one of its social responsibilities.
"As a company we firmly believe in taking care and investing in our employees. One of the ways we have done so - which is in support of the Harambe Prosperity Plan pillar on social progression - whereby we made provision for affordable housing to our employee. The first phase consisted of 65 houses, which were successfully completed," explained Kasete.
In the same vein he encouraged fellow business partners - whether big or small - to follow suit.
"There is no company that will succeed in this age without taking care of its employees and, therefore, I am proud to announce that Dundee made history within the corporate sector by scooping the first place and receiving a platinum seal of excellence in large size category of the 2017 Deloitte Best company to work for survey in Namibia. That's such a dynamic achievement," stressed Kasete, adding that this should serve as an example.
"Engaged employees are productive workers, and as you know, productive employees will grow your business which in turn create a positive business climate to attract investors to your town."
In addition, Kasete said through their commitment to Tsumeb they also spent millions towards supporting the education sector, with their latest effort involving the development of a NIMT/Dundee vocational training programme, in line with the new education curriculum.
"The project will ensure learners complete their N1 certificate by the time they complete their Grade 12 and be better equipped to enter institutions of higher learning," Kasete said. The programme is offered only to Tsumeb-based learners in Grade 11.