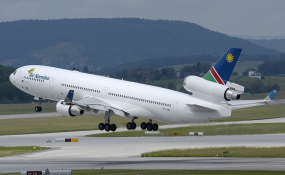 Photo: Rolf Wallner /Wikpedia
By Denver Kisting
British billionaire Sir Richard Branson is not in Namibia to resuscitate the Namibian economy by purchasing a stake in the ailing airline Air Namibia.
In fact, Branson of the Virgin Group is not in the Land of the Brave at all, according to public enterprises minister Leon Jooste.
A frenzy erupted on social media yesterday after presidential spokesperson Albertus Aochamub announced that the magnate would be engaged with talks at State House with President Hage Geingob at noon today.
According to a message to the Namibian media, Branson's 12h00 courtesy call would have entailed "expanding investments in Namibia".
Aochamub late yesterday afternoon notified The Namibian via a brief SMS: "He has postponed."
A follow-up text message followed swiftly: "By the way, he wasn't coming to buy into Air Namibia as you think."
When asked when Branson's visit will materialise, Aochamub said: "As with all visits, all media will be kept abreast of developments."
Earlier, Jooste said Branson was neither here to salvage the national airline nor here at all. "He is not in Namibia." Air Namibia chairperson Gerson Tjihenuna also said he was not aware of a visit or a meeting with Branson.
The director general of the National Planning Commission and the minister of economic planning in the presidency, Tom Alweendo, was just as surprised about the alleged visit, and said he did not know of it, other than what was making the rounds on social media.
Manfred Ruhl, Virgin Active manager in Namibia, could also not say whether the red carpet would have been rolled out for their big boss today.
"It's been all over the news that he would land this morning (today)."
About 11 years ago, Branson paid a secret visit to Namibia. The Namibian quoted Jooste as the then deputy minister of environment and tourism as confirming the visit.
Details about that trip were as sketchy as the current alleged trip.
According to Forbes, the 67-year-old is worth US$5,1 billion (approximately N$72,318 billion), and "owes his fortune to a conglomerate of businesses bearing the 'Virgin' brand name, including Virgin Galactic and Virgin Atlantic".
He was knighted at Buckingham Palace in 2000.