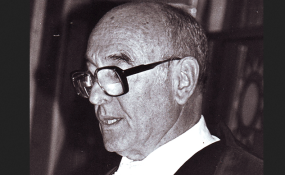 Photo: The Namibian
By Werner Menges
Former High Court judge Harold Levy, who was responsible for some landmark judgements delivered in Namibia during the 1980s and also after independence, has died at the age of 93.
Levy died in Cape Town, South Africa, where he has been living in retirement, on Friday morning, his son, Jeff Levy, confirmed from Cape Town yesterday.
Judge Levy served as a judge of the then Supreme Court of South West Africa from 1984, and remained on the bench of the High Court after independence. He retired in 1994, but thereafter was appointed as an acting judge of the High Court several times until 2003. He also served as an acting judge of appeal in the Supreme Court in 1999.
In a judgement that was of key importance for the newly established The Namibian, judge Levy in 1986 shot down an attempt by the then interim government to require the newspaper to pay a deposit of R20 000 for its registration, while a deposit of only R10 was asked from other newspapers.
Judge Levy "was a courageous and principled judge with a deeply held commitment to upholding the rule of law and human rights", Supreme Court appeal judge Dave Smuts remarked yesterday. "He made a massive contribution to the development of a human rights culture in Namibia."