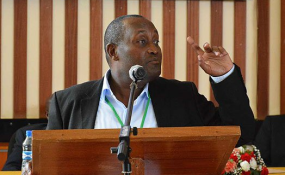 Photo: Nairobi News
President Uhuru Kenyatta and some governors have given statements following the death of Nyeri Governor Wahome Gakuru.
"I have learnt with profound shock of the death of the Nyeri Governor, Dr Wahome Gakuru, following a tragic road accident at Kabati. My family and I, and the National Government send our deepest condolences and sympathies to the late Governor Gakuru's family and his Nyeri constituents.
'GREAT PROMISE'
Nyeri and the country have been robbed of a great promise with the demise of Dr Gakuru, a committed, visionary and tireless leader. Governor Gakuru was a great leader and an action-oriented man who - upon his victory in the August 8 election - did not waste time but embarked on serving the people of Nyeri with diligence and commitment. We grieve with all of you.
I encourage the governor's family, friends and the entire county to take comfort in the solidarity of Kenyans, and not to lose hope in the face of tragedy. I remind them that from time immemorial, Nyeri has seen trying times and prevailed. Even at this incredibly sorrowful juncture, Almighty God will come through, and we shall find peace.
The National Government stands with Governor Gakuru's family and the people of Nyeri, and will offer all the support necessary at this time. I last saw Governor Gakuru a few months ago during the Nyeri Agricultural Show. He was full of vigour, and eager to serve the people of Nyeri and the country. It is sad that he is now gone.
Let's stay strong and keep the faith. May God give us solace, assurance and peace," the president said in a statement.
GALANT ECONOMIST
Kitui Governor Charity Ngilu suspended a ceremony to swear in her new cabinet upon receiving news of Dr Gakuru's death.
Mrs Ngilu said she was deeply shocked by the tragic death of her colleague Tuesday morning.
"The ugly hand of death has for the second time robbed the people of Nyeri County another of their distinguished son and a leader" Governor Ngilu said in a press statement.
She described the late Governor as a galant Economist and a Kenyan hero whose ambitions to transform the country's Political, Economic and Social welfare cannot be replaced.
"On my own behalf, My family, The County Government and the People of Kitui County, I condole with the family, friends, relatives and the people of Nyeri during this time" she said.
UNTIMELY
Laikipia Deputy Governor John Mwaniki has mourned the demise of Nyeri Governor Wahome Gakuru describing his death as untimely and unfortunate.
"It is a sad morning for the people of this country and especially the residents of Nyeri County. This was an untimely death for the governor who was on his way to articulate the revival of the Nairobi-Nanyuki railway line. He was so enthusiastic about the idea and eager to see it commence operations.
The nation has lost a great leader, his vision, his focus and commitment to his work and the dedication he had for his people and the nation at large.
We pray for his family, friends and the people of Nyeri County that the Almighty God shall give us strength to come to terms with what has happened," Mr Mwaniki said in a statemen
CABINET
Mining Cabinet Secretary Dan Kazungu eulogised Dr Gakuru as a visionary leader.
"He had great vision and drive when he joined seven other governors from Central Kenya in a bid to revive the railway line across the region and open it up to markets in Nairobi and Ethiopia.
It is sad that he will not live to see that dream come into reality," he said.