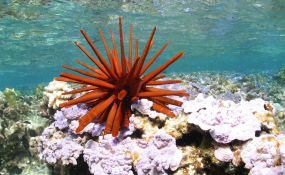 Photo: National Oceanic and Atmospheric Administration
analysis
If you imagine fish as birds of the ocean, they fly through forests and over fields which grow in the rich soil of the continental shelf. Just as on land, it's Earth teeming with roots and creatures that form the base of the sea's food web and upon which its health depends. Around South Africa's coasts, that could soon change writes DON PINNOCK.
The Department of Mineral Resources has granted three prospecting rights over vast areas of the sea floor that could signal the start of a mining process to grind up the seabed to extract phosphate. The resulting sediment would be dumped back into the water column as liquid "dust", posing a threat to ocean ecosystems, fish and fisheries. What it would do to the seabed is almost unimaginable.
The licences cover 150,000km2 within South Africa's western and southern Exclusive Economic Zone and were awarded to Green Flash Trading 251, Green Flash Trading 257 and Diamond Fields International.
A map shows the three marine prospecting rights on the sea floor.
The proposed fishing and mining areas.
Studies commissioned by the Safeguard our Seabed Coalition (SOSC), an alliance of non-governmental organisations, has warned that marine phosphate mining "would have severe...