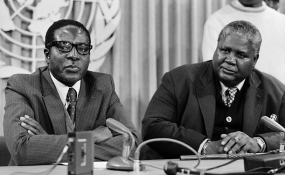 Photo: The Herald
By Nqobile Tshili
The Government will renovate the house of the late Vice President Dr Joshua Nkomo in Bulawayo's Pelandaba suburb as part of its policy to preserve cultural sites and promote domestic tourism.
The Deputy Minister of Tourism, Hospitality Industry and Environment, Cde Anastancia Ndhlovu, affirmed the Government's policy last Friday at the late Father Zimbabwe's house during a visit by Zanu-PF Youth League members, a day before the ninth leg of the Presidential Youth Interface Rally held on Saturday.
Cde Ndhlovu made the remarks after Dr Nkomo's family argued that the house was a historic monument and Government should shoulder the responsibility of maintaining it.
The Deputy Minister concurred saying the house should be preserved.
She said Government's inter-departmental teams will be dispatched to consult the family on how best to preserve Dr Nkomo's legacy.
"I would like to thank the family for allowing us to pass by and to take this opportunity to emphasise and reaffirm President Mugabe's Government policy of promoting heritage tourism. This place is very historic, it was home and is still home to one of the icons of the liberation history of our country and this history is so rich and it can't just go away," said Cde Ndhlovu.
"So working with our domestic tourism teams and Zimbabwe Tourism Authority together with our counterparts in Home Affairs we are going to dispatch teams to come and see how best they can work to make sure that we document the history in a manner that it becomes a tourism product on its own."
She said Father Zimbabwe's name is a brand whose legacy should be carried from generation to generation
Cde Ndhlovu said to promote domestic tourism, the Tourism Ministry will engage schools so that pupils can visit monuments and learn about their past.
"The name Joshua Nkomo is a name without which we cannot talk about the history of this country, before and after the independence of our country. He left us a legacy of unity. I want to give you the commitment of President Mugabe through my Tourism, Hospitality Industry and Environment Ministry to make sure that this place becomes one of the tourist attractions of our country," she said.