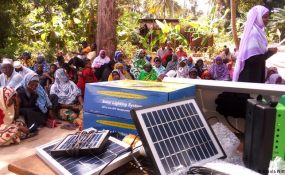 Photo: Ursula Wittekind/DW
opinion
The Alternative Information & Development Centre's (AIDC) latest research - One Million Climate Jobs - Moving South Africa forward on a low-carbon, wage-led and sustainable path - makes clear that there are potentially hundreds of thousands of jobs in championing low carbon development, as a complimentary strategy to a wage-led development path. By JOSEPH MATHUNJWA.
The global economy is facing numerous structural challenges. With the looming fourth economic revolution characterised by even more technological development and mechanisation, the future of productive labour is bleak. Most unskilled and semi-skilled workers are likely to lose their jobs. Even some skilled workers are not spared from this emerging catastrophe, as numerous job categories - such as brick-layers - are increasingly becoming redundant.
This points to the urgent need for planning, for conscious investment in job-rich, growth opportunities that enable economies to build productive capacity in labour intensive sectors. One way of achieving this is to strengthen wage led growth, which, in turn, stimulates aggregate demand through enlarged household incomes. Without a dramatic increase in the wages of mine workers, farm workers and all employed people in our country, we will never be able to deal with South Africa's most urgent problems: inequality, mass...