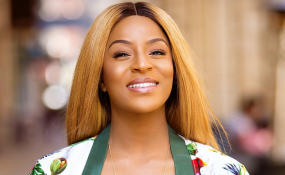 Photo: Jessica Nkosi/Instagram
The SAPS said it was looking into the authenticity of a video reportedly showing actress Jessica Nkosi and another local actress flashing wads of cash with a man.
National police spokesperson Brigadier Vishnu Naidoo said police were looking into the authenticity of the video doing the rounds on social media and the results of that process would determine the way forward. He said the police were also looking into another video of men flashing cash that has been linked to the video featuring Nkosi.
"We are still looking into this. Firstly the authenticity of [the] videos, followed by possible investigations," he said.
Earlier on Tuesday, a statement released by Capacity Relationships on behalf of Nkosi said she was "an innocent bystander".
"What transpired left Jessica uncomfortable and upset as this is not the company she is used to keeping nor the environment she wishes to associate her personal brand with," the statement said.
In the video, Nkosi watches as the other actress puts salt and pepper on a wad of R50 notes at a restaurant and pretends to eat it.
Source: News24