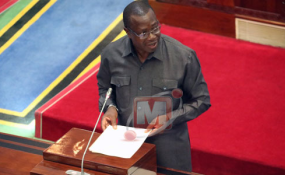 Photo: The Citizen
By Sharon Sauwa
The government is projected to increase its Budget estimates by 2.2 per cent to Sh32.4 trillion in the 2018/19 financial year that begins next July to prioritise investment in an industrial economy.
The Minister for Finance and Planning, Dr Philip Mpango, said this on Tuesday November 7, 2017 in Parliament when presenting proposals of the National Development Plan 2018/19 and Guidelines for the Preparation of the 2018/19 Planning and Budget.
Currently, the government is implementing a Sh31.7 trillion Budget.
Dr Mpango said that domestic revenue collection was expected to exceed Sh22 trillion, equivalent to 68 per cent of estimates, with the government expecting Sh3.7 trillion from external sources, including aid.
"A total of Sh20.2 trillion will be used in recurrent expenditures, while Sh12.2 trillion will be spent on development projects," he said.
He noted that in the same period Sh7.6 trillion would be spent on salaries for public servants and government institutions.