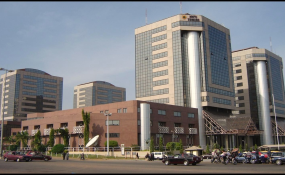 Photo: Daily Trust
By Daniel Adugbo
For the first time in the last one year, crude oil and condensate production in Nigeria reached its highest level of 62.46 million barrels in July 2017, latest data from the Nigeria National Petroleum Corporation (NNPC) has shown.
Analysis of the August monthly operations report of the state oil firm showed that the 62.46 million barrels production represented an average daily production of 2.01 million barrels.
Average daily crude oil and condensates production inched up to 2.01 million barrels per day (bpd) from 1.95 million bpd in June, 1.87 million in May 2017 and 1.79 million bpd in April, the data showed.
Oil output in the country has climbed steadily following a respite in attacks by Niger Delta militants which has enabled the country ramp up production.
Checks also showed that the resumption of crude loadings and operations at key export lines, the Forcados and Qua Iboe terminal pipelines would allow Nigeria achieve its 2.2 million barrels daily crude oil and condensates production.
In keeping with the Organisation of Petroleum Exporting Countries (OPEC) output cut deal, Nigeria had agreed to cap production at 1.8 million bpd once production "stabilises."
That limit, however, exempts all the nation's condensates, an ultra-light oil that is not counted as part of its promise to cap.
Minister of State for Petroleum Resources Ibe Kachikwu told Reuters in July that condensates contributed 450,000 bpd to Nigeria's production that month.
According to a S&P Global Platts OPEC survey - which measures oil output-excluding condensates and natural gas liquids - Nigeria's oil production averaged 1.81 million bpd in July, which was an increase of 30,000 bpd compared to June.