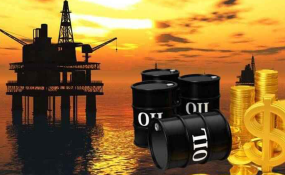 Photo: Vanguard
By Hamisu Muhammad and Daniel Adugbo
Despite the threat posed by electric vehicles (EV) and targets set by countries to halt petrol-fueled cars, oil will still remain a fuel of choice at least for the foreseeable future, the Organisation of Petroleum Exporting Countries (OPEC) said yesterday.
OPEC which appears unperturbed by the revolution in the renewable energy space, said oil is expected to remain the fuel with the largest share in the energy mix till the 2040 forecast period.
The organisation in its 2017 World Oil Outlook unveiled yesterday in Vienna, forecasted that world oil demand would rise to 111.1 million barrels per day (bpd) in 2040 and could be curbed to 108.60 million bpd if electric vehicles are adopted wider than assumed.
Highlight of the forecast showed that total primary energy demand is set to increase by 35 per cent in the period to 2040 as developing countries will continue to lead demand growth.
According to the report, long-term demand growth will come mainly from road transportation (5.4 mb/d), petrochemicals (3.9 mb/d) and aviation (2.9 mb/d).
"Oil demand in the road transportation sector is driven by the increasing car fleet in developing countries and declining oil use per vehicle in the OECD region," it said.
OPEC said the required global oil sector investment is estimated at $10.5 trillion in the period up to 2040.
Speaking at the launch, OPEC Secretary General, Mohammad Sanusi Barkindo said: "The past year has been an historic one for OPEC and the global oil industry. Since publication of the WOO 2016 in early November last year, the oil market has undergone fundamental change. It has been a period where the rebalancing of the global oil market has gathered vital momentum, buoyed by a number of important factors."
Meanwhile, the Morgan Stanley, a financial services company, has raised its forecast for oil prices through 2020, saying the world is hungry for more US shale crude at a time that it's uncertain American drillers can deliver it.
The bank, according to the CNBC, now sees international benchmark Brent crude fetching $62 a barrel in the final quarter of the year, up from an earlier estimate of $55. US West Texas Intermediate crude is poised to average $56 for the quarter, up from Morgan Stanley's prior $48 call.
By the second quarter of 2018, Morgan Stanley forecasts Brent will average $63 and WTI will trade at $58 a barrel.
Demand for oil is growing at a surprisingly high rate, leading to a rapid drop in US crude inventories, Morgan Stanley also said. At the same time, OPEC and other oil exporters including Russia are likely to extend a deal to keep 1.8 million barrels off the market through next year.
The Brent Crude price yesterday dropped to $62/barrel after reaching $64/barrel, the highest recorded in 30 months.