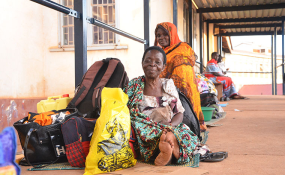 Photo: The Observer
By Monitor Team
Masaka — As medical workers strike enters day two, the industrial action has started taking its toll on patients.
One accident victim has been confirm dead after being rushed to Masaka Regional Hospital on Tuesday but no health worker was available to attend to her.
The deceased who is yet to been identified, was involved in a boda-boda accident in Masaka town.
The female patient reportedly died 40 minutes after failing to get medical attention at the hospital.
Mr Leonard Muwonge, a driver attached to Inspector General of Government's office, Masaka branch, had rushed the victim to the health facility.
"I drove her to the hospital, but when we reached at the emergency ward, there was anybody to attend to her," Mr Muwonge said. "Later, I saw a medical officer who was speaking on his phone and when I asked him to help the victim, he ignored me."
Mr Muwonge said that after almost 40 minutes, an unidentified man came and checked the victim's pulse and pronounced her dead.
Mr Muwonge said he took the body to the mortuary, located a few metres away .
Several patients are stranded at the hospital with only two medics trying to attend to them.
Mr Ferguson Kato, an enrolled nurse at the hospital said no doctor had reported for duty by 11pm.
Doctors under their umbrella body, Uganda Medical Association (UMA) laid down their tools on Monday after failure by government to respond to their grievances.
The UMA general secretary, Dr Mukuzi Muhereza said all out patients (OPD) care woud be closed, including all routine non-emergency clinics that handle diabetes, HIV and antenatal cases.
He however said that all emergency units and maternity would be operational.
Mr Robert Kabuye, the Masaka Regional Hospital principal administrator said he was attending an urgent meeting in Kampala but promised to investigate the matter.
"As hospital administrators, we are not part of the on-going strike but what I know is that emergency units had to remain functioning," Mr Kabuye said.
Ms Gloria Nakato, resident of Kibinge Town in Bukomansimbi District, who was found at the hospital, said she had not seen any doctor to attend to her sick daughter since morning.
"We have had that the doctors are striking. The government will be punishing us if they don't swiftly attend to medical workers' issues because they do a great job for us," she said.
Patients were seen walking away one by one after failing to get medical attention.
However, the maternity ward was operating normally.
By midday, all doctors at the facility were still locked in a closed- door meeting.
At Lyantonde Hospital, no doctor was on duty.
Only one nursing assistant was attending to emergencies.
"I am here to receive emergencies and do referrals only," Ms Naome Komuhangi said.
Student interns from Lyantonde Nursing School were seen in the Laboratory, at the reception, Labour Ward among other departments.
The pharmacy, theatre and dispensing rooms all remain closed.
Mr Muhammad Mwesigwa, the Lyantonde Hospital administrator said some medical workers showed up although some were still having breakfast.
"We are not like those districts where all (health workers) have failed to show up. Am happy we have referred a patient to Mbarara Referral Hospital, it's a sign that we are working, no person has reported to my office for not being attended to," Mr Mwesigwa said.
At Mubende Regional Referral Hospital, hundreds of patients remained stranded in their wards while others were crowded in corridors.
I have decided to go home and die quietly. I was rushed here with severe pain but the nurse has informed me that they will not attend to any one today. I am too poor to afford medical services in private clinics. I have to endure the pain," Ms Safina Mukisa, one of the patient at the hospital said.
Ms Jessica Nakamate said a nurse she informed her not to waste time at the medical facility because nobody would attend to her.
X-ray, scan, dental, eye, immunization units were all locked.
However, patients in surgical, maternity, paediatrics, tuberculosis, male and female wards, were being attended to by several intern doctors and nurses.
Other hospitals that have been affected by the strike include among others Kiruddu General Hospital located in Makindye Division, Kampala, Hoima Regional Referral Hospital.
The demands
As part of their demands, the doctors want government to review their salaries which would see an intern doctor earn Shs8.5 million as opposed to the current Shs960,000 before tax.
They also want a medical officer or teaching assistant to be paid Shs15 million and accorded a two-bedroom house and a 2.5cc vehicle.
The demands read out by Dr Mukuzi Muhereza, the UMC secretary general on October 9, propose that a senior consultant doctor or professor should be the highest paid health work with a gross salary of Shs48 million plus allowances. On top of that, medics at that rank should be given a five-bedroom house, a 4.0cc vehicle and three domestic workers.
Currently, a senior consultant doctor earns about Shs3.4 million, a consultant Shs2.6 million while a medical officer gets Shs1.1 million per month.
The doctors also want salaries for nurses and midwives enhanced to about Shs6.5 million besides a three-bedroomed house, a 2.0cc vehicle and one domestic worker.
They also want the State House Health Monitoring Unit disbanded and replaced with legally established health professional councils.
Compiled by Christopher Kisekka,Al-Mahdi Ssenkabirwa, Paul Ssekandi, Emmanuel Ainebyoona and Francis Mugerwa