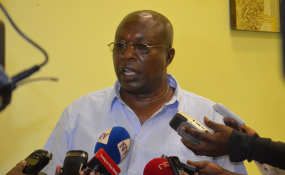 Photo: Daily Monitor
By Damali Mukhaye
Kampala — At least 1,200 delegates of the opposition Forum for Democratic Change (FDC) have been listed as voters in the forthcoming election of the party president set for November 24 at the Nelson Mandela Stadium Namboole, near Kampala.
Mr Dan Mugarura, the party electoral head, told journalists at the party headquarters in Najjanakumbi yesterday that the party had endorsed 1,209 delegates to vote for the five candidates, who include incumbent party president Maj Gen Mugisha Muntu. Others are Mr Patrick Oboi Amuriat, Mr Mubarak Munyagwa, Mr Daniel Matsiko, and Mr Moses Byamugisha.
Mr Munyagwa has since pulled out of the race, but the party election chief said his name will be included on the ballot until he indicates his exit in writing.
Mr Munyagwa was given up to tomorrow to do so.
The voters will include FDC party district leaders, mayors, diaspora chapter leaders, MPs, women and youth league leaders, founder members, eminent persons, district council chairpersons, and central party executive national executive committee (NEC) members.
Agents of the candidates yesterday received and signed the voters register as a first step towards ensuring a free and a fair election.
The candidates have just about 16 days left to convince the delegates to vote for them.
"We have set aside more than Shs30 million to (help) accommodate all the delegates from upcountry and everything is set for the party presidential election to kick off on November 24. We've already approved the voters' registers and every agent of the candidates and signed and taken the registers with names of all delegates," Mr Mugarura said.
NEC has the highest number of delegates with 64, followed by the FDC MPs with 28 members, minus those sitting on NEC.
Mr Mugarura said 62 of the NEC members had been approved while two are still pending approval.
District to be won and sending the highest number of delegates with more than 10 representatives include Wakiso, Arua, Tororo, Ntungamo, Kamuli, Kayungu, Kasese, Luweero, Iganga, Ibanda, Kabale, Kyankwanzi, Sheema, and Soroti, among others.
Others with delegates below five are Nwoya, Butambala, Otuke, Buhwezu, Buliisa, Bukwo, Abim, and Amolatar, among others.
The numbers are largely dictated by the number of constituencies per district.