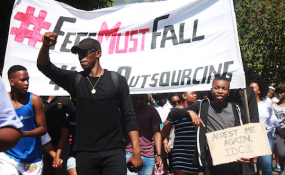 Photo: Ra'eesa Pather/The daily Vox
Universities South Africa CEO Professor Ahmed Bawa says the organisation has been anxiously awaiting the release of the much-anticipated Fees Commission report.
Extracts taken from a leaked copy of the report were published by News24 sister publication City Press two weeks ago and revealed that free universal education was not feasible.
On Tuesday, Times LIVE published a story alleging that President Jacob Zuma was preparing to announce a plan introducing fee-free tertiary education, which his future son-in-law, Morris Masutha, had allegedly devised.
The plan, according to the publication, would defy official ANC policy and would see departmental budgets being cut to make R40bn available for the 2018 academic year.
Masutha is engaged to Thuthukile Zuma, the president's youngest daughter from his marriage to Nkosazana Dlamini-Zuma.
When News24 approached Masutha for comment, he ended the call.
Universities South Africa does not know what to make of the report.
"What we were told last week was that the president would make an announcement this week," Bawa said.
"We're all just waiting... We're all very anxious actually," he added.
Rumours were circulating that the president was expected to make an announcement sometime on Tuesday.
Spokesperson for the Department of High Education and Training, Madikwe Mabotha, said he was aware of reports about Masutha's plans, but could not comment on it.
Dr Bongani Ngqulunga, spokesperson for the president, was not available for comment.
News24