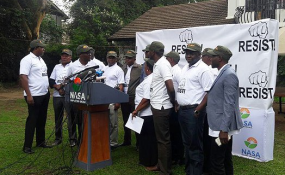 Photo: Nairobi News
By Lynet Igadwah
The communications regulator has warned that calls by the opposition Nasa coalition to boycott Safaricom products will hurt jobs and the investment climate in the ICT industry.
Communications Authority of Kenya (CA) director-general Francis Wangusi Tuesday responded to Nasa leader Raila Odinga's boycott calls in a day that Safaricom share shed Sh0.50 to close trading at Sh24.50 at the Nairobi bourse.
Last week, the opposition leader asked his supporters to stop using Safaricom products, saying the firm influenced the presidential election.
President Uhuru Kenyatta won a second, five-year term with 98 per cent of the vote after Mr Odinga boycotted the contest. Only 39 per cent of registered voters took part.
"We call upon leaders across the political spectrum to avoid making utterances that may dampen the investment climate in the country, hurt jobs in the local ICT sector and ultimately compromise the quality of life for the mwananchi," said Dr Wangusi in a statement.
Safaricom dealers on Monday lamented slow business in parts of Nyanza region since the boycott call was made on Friday by Nasa.
Mr Odinga accused Safaricom of failing to alert the authorities about illegal activities during the electronic transmission of the August 8 General Election results.
Safaricom has however denied all the accusations.
The Independent Electoral and Boundaries Commission (IEBC) had contracted Safaricom to help with results transmission, an assignment Nasa says the telcom operator messed up and aided in the cover-up in the period that followed.
Dr Wangusi asked Kenyans to exercise their freedom of choice of service and service providers while restraining from vilifying businesses that have taken years of hard work to build.
"We encourage that any alleged election malpractices be reported to the relevant authorities," he said.
Mr Odinga on Monday led his supporters in migrating from Safaricom to Airtel, the country's second largest service provider by market share.