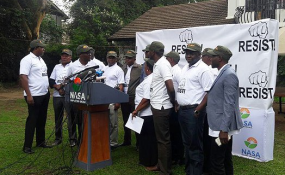 Photo: Nairobi News
By Collins Omulo
Nasa's call for an economic boycott should not be taken lightly as it could cause massive job losses of between 70,000 and 100,000, Cotu Secretary-General Francis Atwoli said on Tuesday.
"As a workers' body we must alert workers that there is danger in what Nasa has come up with. Raila Odinga is a man with a huge following and any boycott will impact on workers and not only them but will also deter those firms from employing workers," the Central Organisation of Trade Unions boss said.
BOYCOTT
Mr Atwoli spoke on the sidelines of a meeting between officials of Cotu affiliates and the National Hospital Insurance Fund.
The National Super Alliance (Nasa) has called a boycott on Safaricom, Bidco and Brookside products, claiming the companies support the Jubilee administration and the boycott would address electoral injustices.
Mr Atwoli said Cotu was not planning any meeting with Nasa leaders to persuade to stop the boycott as he was tired of talking politics. But he urged the leaders from across the political divide to find alternatives to end the impasse.
"I started warning leaders from March up until August 7 that if they did anything funny then it would be an uphill task to go back to where we were," he said.
DIALOGUE
At the same time, Mr Atwoli reiterated the call for dialogue to steer the country towards the right direction.
He cautioned political leaders against taking hard line stances but urged them to embrace dialogue, saying it was the only way to end the uncertainty plaguing the country since the August 8 General Election.
"We have appealed to the leaders to talk to one another to find a solution because this nation is for all of us. Dialogue is the key to reaching out to one another so that as a nation we can move in one direction because every Kenyan has a stake in this country," said Mr Atwoli.
He criticised leaders opposed to dialogue, saying they are only thinking of positions instead of the greater good of all Kenyans.
"We should not discourage dialogue as talking does not remove you from your position ... and inasmuch as we are looking at some other political alternatives we can also engage in dialogue," he said.