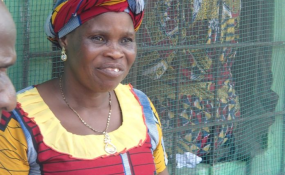 Photo: Liberian Observer
By Henry Karmo
Monrovia — Lawyers representing the legal interest of the Unity Party (UP) and the Liberty Party (LP) in the case Charles Walker Brumskine and Harrison Karnwea Presidential and Vice Presidential candidates of the Liberty Party versus he National Elections Commission (NEC) have called on NEC hearing officer to subpoena the Elections Commission to provide the Final Voters Roll and other documents pertaining to the October 10 elections.
Cllrs. Varney Sherman, Benedict Sannoh and Lavala Supo-wood represented the two parties at the hearing on Tuesday.
They insisted that the Commission must be subpoenaed to provide critical documents including the final voter roll, copies of presiding officer work sheet, copies of the list of people who voted without their names being on the official list and copies of findings into the investigation involving Mr. Amose Siebo who was caught printing Voter ID cards during the voter registration period.
In February of 2017 a consultant of the Presidential Delivery Unit, Amos Siebo, was arrested with NEC voter registration material in his private residence printing out voters ID cards.
The ring was busted with an assortment of National Elections Commission voters' registration materials, including cameras, blank voter's cards, forms and printers.
Siebo and his wife were arrested on February 26, 2017 in Kangar Town Johnsonville Community outside Monrovia after a tip-off that they had conspired with another culprit, Alphonso Somwarbi, to carry on voter registration.
Tuesday's hearing came about after the Board of Commissioners after an appeal filed by the UP to intervene in the LP's complaint was heard.
The Hearing Officer had earlier thrown the motion for intervention filed by the ruling party.
NEC Commissioner Jonathan Weedor, who read the ruling said, "After listening to both the respondent and defence counsels as well as taking into consideration the ruling handed down by Cllr. Ville, the Board of Commissioners overturned the hearing officer's ruling and grants UP to be a part of the LP's case as requested."