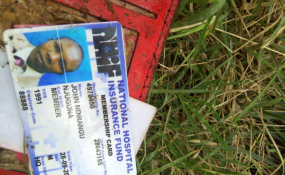 Photo: Eric Matara/Daily Nation
By Magdalene Wanja
The high levels of pollution in Lake Nakuru have been the greatest challenge in the search of remains of three victims of a campaign helicopter crash on October 21.
For the last 17 days that the search has been going on, the recovery team has had to endure hours in extremely dirty water and silt, which has frustrated their efforts to locate and retrieve the bodies.
The high levels of raw sewage mixed with water has not made things any lighter for divers manoeuvring the otherwise shallow lake.
WASTE MANAGEMENT
Even the fuselage of the ill-fated chopper is yet to be traced in the lake, more than two weeks after the crash.
So far, only two bodies and a few fragments of the chopper have been retrieved. The two have since been buried.
The high pollution has put the county government of Nakuru on the spot on waste management.
FAMILIES
The lake is situated inside one of the premium parks in the country, which is home to up to 50 mammal species and more than 450 birds species both in water and dry land.
According to one of the divers, the water is also soapy, making it difficult to see through the water.
"When you rub your hands after getting into contact with the water you are able to produce foam," he said.
On the 17th day of the search on Monday, nothing was recovered, even as families of the victims waited by the shores hopeful.
PLASTIC BAGS
The Nation team came across dead fish on the shores, perhaps evidence of the effects of the pollution on fauna.
Before the ban of plastic bags that took effect in August, more than 24 tons of plastic waste was collected in the park annually, often swept in by the sewage from the neighbouring communities.
About 27 per cent of Nakuru is connected to the sewer system.
VICTIMS
Hopes of a good report were rekindled on Saturday after the retrieval of clothes, shoes and identification documents belonging to Mr John Mapozi, one of the occupants of the chopper.
The National Disaster Operation Centre desk officer Jonathan Kertich on Monday promised that the operation, although resource consuming, would not stop until it yields results.
A study conducted in the lake one year ago showed that the sewage waste has changed the pH of water from 5.86 to 7, making it unsuitable for wildlife.
DIVERS
This is in addition to the silt and high salinity of the water.
The search team comprises divers from Kenya Navy, the Ministry of Livestock and Fisheries, Bomet County Government, the Sonko Rescue Team and private diver groups from Mombasa and Naivasha.