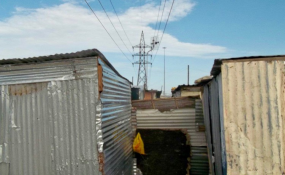 Photo: Vincent Lali/GroundUp
By Vincent Lali
Shack dwellers in Sondela informal settlement have no legal electricity, rubbish collection or toilets
Sondela informal settlement in Mfuleni sits between electricity pylons and directly beneath the power lines, but has no access to legal electricity. The settlement's 250 shack dwellers also have no toilets.
The City of Cape Town says Sondela was formed after an illegal land occupation in the second quarter of 2017.
"The City has extensively engaged with these residents throughout the course of this year," said Mayoral Committee Member for Informal Settlements Councillor Xanthea Limberg.
Residents Ntomboxolo Ngantweni said, "The other night glasses and sparks flew off the pylon and fell on our shacks. We were frightened of being electrocuted."
She said one night when she and her baby and small child were asleep "an electrical wire first produced what sounded like gunfire and fell with a bang on my shack ... Out of fear, I pulled my kids from my shack, and we slept outside because we were scared that the wire on our shack roof would electrocute us."
Ngantweni said City of Cape Town electricians arrived the following day, removed the wire from her shack and tied it to the pylon.
Thandiwe Ngantweni said, "When you walk barefoot here, you get electrical shock, so you must always wear shoes." She said residents also get electrical shocks when they lean against corrugated iron shacks or hang clothes on the washing lines.
"When the weather is rainy or misty, the pylon produces a loud and scary sound which prevents us from falling asleep at night," she said.
Community leader Khwezi Ndabeni said residents wanted the City of Cape Town to put an enclosure around the pylon. "Kids tie up cords or ropes to the pylon and use them as swings. We fear that they may be electrocuted while they play," she said.
Shack-dweller Siphokazi Shumi lives with two small children. On cold days, Shumi uses a drum as a brazier (called imbawula) to keep her shack warm. She says, "If we had electricity, we would use our electric heaters."
Because there are no toilet facilities, Shumi says, "I [defecate] in a bucket and dump the [faeces] into a stormwater drain in the nearby streets." But residents from formal houses nearby get angry when they see her do this.
Her children use a field nearby. Some residents chase them away.
Ndabeni says the shack-dwellers rely on five water taps provided by the City. "Because the taps are located outside the informal settlement, residents experience difficulty when they walk with buckets balanced on their heads between closely clustered shacks," she says.
She says, "We fear that if a fire breaks out here, all our shacks may burn, because water taps are few and difficult to reach."
Ndabeni says residents also need rubbish bags from the City. To keep the settlement clean, the residents buy rubbish bags and load rubbish onto passing waste management trucks.
A lack of lighting, she says, exposes residents to crime at night.
Ward councillor Thembisile Bathembu said, "City of Cape Town officials told me that there are older informal settlements that still need to get toilets and electricity in Mfuleni before Sondela."