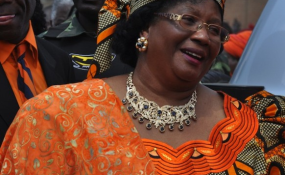 Photo: Katie C. Lin/IPS
analysis
The alleged role of Malawian bank officials in aiding and abetting corruption has again come under the spotlight, with a leaked government report alleging that bank employees may have hidden vital information to frustrate an audit trail pointing to the theft of public funds. By Gregory Gondwe, Centre for Investigative Journalism Malawi, for AMABHUNGANE.
At the heart of the leaked report, from the Central Internal Audit Unit of the Treasury, is a branch of major commercial bank FDH Holdings in the southern Malawi town of Nsanje.
The report, dated September 19 2016 and marked "confidential", finds that bank officials in Nsanje may have colluded with local council employees to disorganise the maintenance of bank records, after 25-million kwacha (about R480,000) was irregularly withdrawn.
The commercial banks were embroiled in the country's biggest public finance scandal in 2013, known as "Cashgate", in which more than K50-billion kwacha (just under R1-billion) is thought to have been stolen from government.
A subsequent forensic investigation by top British accounting firm Baker Tilley highlighted the banks' shortcomings, including officials' failure to query large and apparently irregular withdrawals.
The audit report in the Nsanje matter, signed by George Benthu Nthengwe, acting director for the Central Internal...