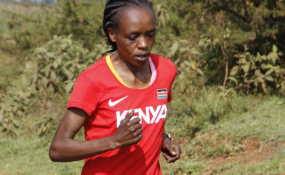 Photo: Jared Nyataya/The Nation
By Ayumba Ayodi
Anti-Doping Agency of Kenya (Adak) could prefer legal charges against drug cheat Jemimah Sumgong under the 2016 Anti-Doping Laws that came into effect last year.
Adaka chief executive officer Japhter Rugut disclosed that their legal team is looking at which charges they will prefer against the reigning Olympic marathon champion.
"It could be in respect of tampering, uttering and presenting false documents," said Rugut.
He said that Sumgong presented document purporting to be from Kenyatta National Hospital, which the hospital disowned during her Sports Dispute Tribunal hearing.
"Let us wait and see how the legal team will package it," said Rugut.
Among Adak duties is to investigate and prosecute athletes, athlete support personnel and sports organisations engaging in doping violations.
APPEAL DISMISSED
Sumgong's appeal to the Sports Dispute Tribunal was dismissed at a cost as Adak moved to ban the athlete for a period of four years starting April 3 after she tested positive for the banned blood-booster Erythropoietin (EPO) in an out-of-competition test carried out by the IAAF in February.
Sumgong's case falls under the Offences and Penalties Article 38 section 1 (e and f) of the Anti-Doping Law where anybody who is found to have presented to the agency a false document or makes a false statement with the intent to deceive or mislead investigating officers or deliberately submits false information is liable for prosecution.
If such a person is found guilty of offence, they shall be liable to a fine not exceeding Sh 1million or to imprisonment not exceeding three years or to both.
Sumgong, who did not request for B Sample test after she was caught cheating, claimed she consulted unnamed doctor at the Kenyatta National Hospital on February 23, this year for severe bleeding resulting from night travel and that she was given a blood transfusion in addition to other unknown medication.
This is a procedure Sumgong failed to disclose to Doping Control on February 28.
Sumgong stated that it was an unfortunate offence and unintended.
She indicated in her defence that she had not disclosed this information to her husband Noah Talam, who is also her coach because it was a taboo associated with her condition, which was as a result of an ectopic pregnancy.
That it could have caused her to be shunned by her community.
During the hearing, Kenyatta National Hospital discounted Sumgong's claims and records as not authentic, stating that ectopic pregnancy was a gynaecological emergency that would have been managed at the hospital's theatre and would have been manually recorded in a serial register which didn't happen.
The Hospital stated that ectopic cases are admitted four days before procedure and that Erythropoietin (EPO) injections are not prescribed for the management of ectopic pregnancies.
There are no records of the athlete receiving such an injection at Kenyatta National Hospital and that all doctors were on strike on the date Sumgong claims to have been treated at the facility.
Adak indicated that the response and conduct of the athlete was evaluated by IAAF and it was deemed to constitute an anti-doping violation and referred to Adak for results management.