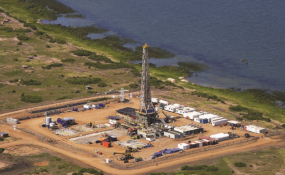 Photo: The Independent
By Frederic Musisi
Kampala — President Museveni will today meet executives of French oil major Total E&P and China's Cnooc, in an attempt to push the two sides to reach a deal on the acquisition of UK's Tullow Oil PLC majority share holding in Uganda.
The meeting, according to sources familiar with the matter, is a follow-up to last Friday's meeting held at State House over the same, which directed officials to rework the modalities of the acquisition
The two companies, Total and Cnooc, which operate under joint venture arrangement, have over the last 10 months been "agreeing to disagree" on acquiring Tullow's assets.
Sale of shares
Tullow, which set foot in Uganda in 2004 sold 66.66 per cent, to the two in February 2012 and retained 33.33 per cent interest in Exploration Area 2 (EA2), east of Lake Albert in the Butiaba region.
However, in January, Tullow announced sale of 21.57 per cent to Total E&P which operates Exploration Area 1A (EA1) at the northern end of Lake Albert.
Because the three operate under a joint venture, Cnooc later in March also exercised its preemptive rights under the agreement to acquire half of the shares floated to Total.
Although technocrats defended that Cnooc "was exercising its rights", sources say the move was to evade Total's majority shareholding in Uganda.
Total is one of the largest oil companies and as such wields immense powers, including "bulldozing whoever they want." The Tullow sale once approved, what had been hoped initially is that, Total would now be sole operator of EA1 and Cnooc, sole operator of Exploration area 3 (the Kingfisher field), south of Lake Albert. Under the 2012 deal each of the three owns stake in EA1, EA2 and EA3, respectively.
But with Tullow exiting, in essence, the unanswered question was the status of EA2. Sources said "disagreements" over whether Total could now fully take on EA2 since its preparatory stages just like EA1 or whether it could be split--for example Total taking on the northern part of EA2 and Cnooc the southern part, respectively.
Production licences for both EA1 and EA2 were issued last year in August, paving way for the technical Front Engineering Designs, which are expected to pave way to final investment decision, and eventually the development phase.
In August 2016, Tullow and Total were granted eight production licences climaxing the last two phases and paving way for the next phases leading to pumping of first oil development and production but which are very capital intensive.
Earlier projections put capital expenditure at $8b (about Shs27 trillion).
Feasibility studies
Currently the three partners are prepping for engineering feasibility studies that will form basis for Final Investment Decision in the coming phases.
Both Cnooc and Total officials were not readily available for comment on the matter as they were reported in "intense meetings" for today's State House meeting.
The acting director of the Directorate of Petroleum, Mr Honey Malinga, said "let us wait for today's meeting, it could reach a solution to the ping pong between the two."
Once the disagreements are ironed out both Total and Cnooc will each maintain a 45 per cent stake and Tullow 11.76 as equity.