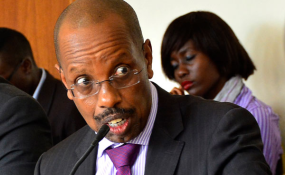 Photo: Daily Monitor
Kampala Capital City Authority (KCCA) councillors will have to wait a little longer to get a pay rise. This follows a directive from the Finance Ministry Permanent Secretary, Mr Keith Muhakanizi to the KCCA Executive Director, Ms Jenifer Musisi not to increase their pay.
In his November 6th letter to Ms Musisi, Mr Muhakanizi says President Yoweri Museveni stopped the proposed pay rise for any entity until a comprehensive assessment has been done by the Public Service Ministry. He directed KCCA to wait until cabinet communicates a new position on any proposed salary increment.
"Reference is made to your letter dated 2nd November addressed to the Prime Minister and copied to me in regard to salary increment for KCCA political leaders. You refer to a directive from the Hon. Minister for Kampala Capital City and Metropolitan Affairs (Beti Kamya) directing you to implement earlier instruction to implement a 30 percent salary increment across the board," Mr Muhakanizi's letter reads in part.
He added: "I wish to inform you that this is contrary to the directive made by the president that no salary increment should be considered for any entity until a comprehensive assessment has been done across the entire public service. The purpose of this letter is to inform you as above and request you to halt any attempt to increase salary until cabinet communicates a new decision."
There has been an on-going feud between the Kampala Minister, Ms Beti Olive Kamya and Ms Musisi over the proposed pay rise for councillors. At the beginning of this financial year, Ms Kamya ordered Ms Musisi to raise the salaries of the political leaders by 30 per cent.
Ms Musisi rejected the proposal, saying KCCA doesn't have the money.
Apparently, the Kampala City Lord Mayor earns a net pay of Shs11.4 million, Division mayors take home Shs7.15 million, KCCA Councillors get Shs3.15 million while Division Councillors earn Shs2.3 million.
In July, the representatives of the KCCA politicians and technical staff met to discuss how to implement the minister's directive.
According to Ms Kamya, the meeting amicably agreed "on an implementation plan that would run from October to July 2017 taking into account that Shs2 billion was available for the first quarter of this financial year."
However, Ms Musisi once again declined to effect the increment at the beginning of the second quarter in October.
As a result, Ms Kamya wrote to Ms Musisi on October 27, saying "all you need is a little innovation and yes we can attitude."
KCCA needs Shs3.6 billion to increase the salaries for the political leaders. Ms Musisi requested for a supplementary budget from Ministry of Finance to effect salary increment but her request was turned down.
Ms Kamya says the increment is an allowance to facilitate political leaders to do their work that involves sensitisation and effective revenue mobilisation. She argues that if the pay increment had been implemented at the beginning of the financial year, KCCA would be in a much better financial situation.