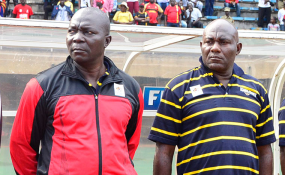 Photo: The Observer
By Denis Bbosa
Kampala — The appointment of Dr Bernard Ogwel to represent the National Council of Sport on the five-man panel set to vet the next Uganda Cranes coach will not come as a surprise to many a sports diehard.
The KIU lecturer has featured prominently in Fufa administration for years before crossing over to NCS recently as the assistant general secretary in charge of administration.
"I was not surprised at all by my appointment. My seniority and experience in Ugandan football must have played a big part in my nomination," an elated Ogwel told Daily Monitor yesterday.
He completes a vastly experienced search committee that boasts of Kalusha Bwalya (Caf and Fifa member), Edgar Watson (Fufa CEO), Asuman Lubowa (Fufa Technical Committee) and Livingstone Kyambadde (Uganda Coaches Association).
"Apart from my high level educational background (has a doctorate), I'm a qualified coach, I played in the top league with Kamba FC (Lira) and I handled super league matches as a professional referee," he added.
Quick CV
"That said, I was on the panel that selected Bobby Williamson (former Cranes coach) and I'm delighted that I'm going to be working with members I have worked with before and respect highly."
Ogwel clarified that his presence on the committee doesn't guarantee that the government will pay the next coach but it is an opportunity for NCS to have a say in the affairs of Ugandan football.
"I'm yet to see the terms of reference but I have been told by Fufa that the chairman (Kalusha Bwalya) can only come here on November 20 when we will begin work.
"Expect an impartial job as we select the six best candidates to forward to government and Fufa," he stressed.
Fufa had indicated November 15 as the date to make the final announcement on the new coach but the federation publicist Ahmed Hussein said that Watson and Bwalya have been engaged in a Caf technical and development conference in Cairo this week.
Ugandan coaches Jackson Mayanja, Moses Basena and Sam Timbe are reported to have applied along with a myriad of foreigners for the job that fell vacant after Micho Sredojevic's departure.