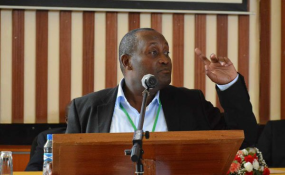 Photo: Daily Nation
By Evelyne Musambi
Social media has been abuzz over the usefulness of the guard rails at the scene of the fatal accident that claimed the life of Nyeri Governor Wahome Gakuru.
The guard rails, instead of minimising the impact of Mr Gakuru's vehicle, speared through the engine to the boot of the vehicle and caused grievous harm to the passengers.
Talk on the killer metallic guard rails on Kenyan roads saw many reposting photos of previous accidents for comparison.
Photos of a September 9 accident that claimed the life of Kikuyu MCA Francis Wainaina's brother were revived.
The Kikuyu accident took place along the Southern Bypass near Alliance High School.
Kenyans online called on the Kenya Highways Authority (KenHA), as well as the National Transport and Safety Authority (NTSA) to redesign the guard rails on major roads.
In a video shared online, the guard rails are supposed to curve outwards after impact from a vehicle and not cut through as has been seen in accidents.
An investigative piece by ABC News showed that an American manufacturer of guard rails altered the design by an inch, causing the defect that sees the rails spear through vehicles.
Kenyans online are of the view that government needs to look into the manufacturing of safe guard rails that have an impact plate.
Something needs to be done about these #KillerGuardRails @KeNHAKenya @ntsa_kenya @TransportKE @Ma3Route @KenyanTraffic @ntvkenya #KOT pic.twitter.com/0AOVgpZIP5
- Allan S.M Madoka (@allanmadoka) November 7, 2017
But then again, how safe are our guardrails? #SwalaNyeti
cc @ntsa_kenya pic.twitter.com/MnBZDo59Eb
- Mac Otani (@MacOtani) November 7, 2017
.@ntsa_kenya needs to address the issue of open ended guard rails on the road. This things are killings people. https://t.co/1yoqQCdiLZ
- austine musamali (@austinmusamali) November 7, 2017
This guard rails;sigh.last years rongai mat that rolled on langata Road,all fatalities were also from the guard rails cutting into the mat.
- Baba Allan (@martomufc) November 7, 2017
@KeNHAKenya It's ur responsibility 2 fix all the guard rails hanging on the road. Its unacceptable 2 lose lives due 2 negligence @ntsa_kenya
- Kirui Hillary (@Ptangus) November 7, 2017
The blunt end guard rails have been spearing cars since they were adopted. Are they good for our roads? What are the alternatives?
- Tula (@ja_njaga) November 7, 2017
@KeNHAKenya after the unfortunate events at Kabati earlier today you really should consider impact attenuators on all the guard rails
- Kevin Kambo (@K_Kambo) November 7, 2017