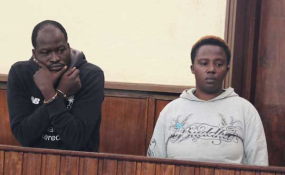 Photo: Ayub Muiyuro/Daily Nation
By Alex Isaboke
Nairobi — Kenya Simbas back-row Mike Okombe will be laid to rest on Saturday, November 18 at his parents' home in Kakamega County.
His former club Nakuru RFC has planned a memorial service partnering with Nakuru CITAM church every evening at 5:30pm to 6:30pm.
Okombe, who made 17 test match appearances for the Kenya 15s team, died on Saturday evening, November 4 in Nakuru after allegedly being stabbed to death by his girlfriend, following a disagreement.
Nakuru RFC, a club he featured for and won back-to-back Kenya Cup titles during the 2012 and 2013 seasons, announced that the family had proposed the burial on Saturday nexy week (November 18).
"The family proposed a date of 18 November for his burial. Please mark that date and be with us for his last send off," Nakuru RFC chairman Mwangi Mucemi posted on the club's official Facebook page.
The club has also organised a fundraiser on Sunday, November 12 at the Nakuru Athletic Club starting 2:30pm targeting to raise Sh1mn that will be handed to the family. Well wishers can contribute through Paybill 874900 under the Account name Mike.
"Nakuru rugby wants to sincerely thank you all for your support and prayers. It shows the love we have for our brother Mike Okombe. We pray you continue in the same spirit. The funds drive is slow and we need to get much more funds. The target is Kshs one million please continue to send through our Mpesa account," Nakuru RFC boss Mucemi said in a statement.
"The club is also looking other avenues of fundraising like T-Shirts and hoodies. Today the autopsy shall be carried out with the family, police and our rugby representatives and the results shall be relayed if and when necessary."
Nakuru Rugby Club has undertaken to cater the costs of the hospital bill and transport of the body to Kakamega.
"Okombe comes from a large family and was the eldest son. His small siblings are looking at us to send off our team-mate, brother and hero," the club said.
-Suspects detained-
Police are holding four suspects among them three rugby players (Maryanne Mumbi who was Okombe's girlfriend, rugby players Calvins Otieno, Eric Mochache and Vincent Omondi) who are detained at the Menengai Police Station until Monday next week when they will be charged.