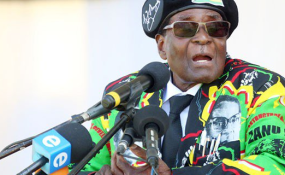 Photo: The Herald
Zanu PF leaders from other Matebeleland provinces must all converge in Bulawayo and help the leadership there so that the province can ditch the opposition MDC, says President Robert Mugabe.
"There is need for the reawakening of Bulawayo. That is a pledge which we must make. All other party structures in Matebeleland North and South should come to help Bulawayo so that the province can redeem itself. Even if it means staying awake and sleep short hours, let's organise the province," said Mugabe.
He was addressing thousands of his party supporters during the Presidential Youth Interface held at White city stadium recently.
President Mugabe reprimanded the party's leadership in the province for failing to devise strategies to win elections in country's second largest city.
He added, "Leaders here in Bulawayo be awake! Although a lot of people have attended today's rally, the number could have been higher if you were organised.
Do not allow vana Tsvangirai (Morgan) naana Khupe (Thokozani) to be ahead of you. In Lupane, the leaders managed to bring a lot of people and that was excellent."
Since the formation of the MDC, the opposition has convincingly romped to victory in council and parliamentary elections save for the recent by-elections which were "won" by Zanu PF following the withdrawal of the opposition citing uneven playing field.
Mugabe also pledged to buy Zanu PF youths in the area campaign cars before the end of November this year.
"I have already instructed the party's Secretary for Finance vaMpofu (Obert) and the Minister of Finance vaChombo (Ingenious) to act on this issue. Please by next week, brief me on the progress on this issue.
We cannot wait anymore .Even if it means going to Port Elizabeth where the cars are said to be, we will do so. We will definitely not go beyond November before you get your cars," said Mugabe amid cheers from the youths.
The cash strapped government last month also promised the country's more 300 chiefs brand new expensive and luxury cars.