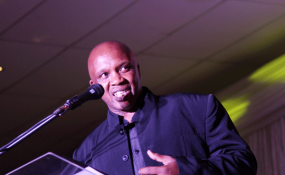 Photo: The Standard
Former Warriors captain Ephraim "The Rock of Gilbratar" Chawanda has exposed the poor organisation of the much touted Warriors and Barcelona legends exhibition match set for this Sunday at the National Sports Stadium.
The legendary defender who featured for the Zimbabwe Saints championship winning squad in 1988 and the late Reinhard Fabisch coached Dream Team.
In a rant posted on his Facebook page, Chawanda blasted the organisers of the match for poor organisation.
"My friends and family have been misled by the media that I will be in Zimbabwe for a certain game in Harare, it's a lie.
"For those who put my name on such a list without consulting me, for lack of better words, PLEASE GO TO HELL, I cannot be part of disorganisation or a circus that disrespects former footballers (sic),"charged Chawanda.
The match is being organised by the Ministry of Sports, Arts and Culture and the Zimbabwe Football Association.
The list of the legends who will showcase the stuff that endeared them to their multitude of fans world over was announced on Tuesday and immediately drew widespread criticism from across the country.
There was a unanimous consternation on the absence on the list of one of the finest midfielders ever to represent the country, Ronald "Gidiza" Sibanda.
The organisers later included the former Zimbabwe Saints, Amazulu and Dynamos player.
Chawanda was expected to partner with Edelbert Dinha, Charles Yohane, Dumisani Mpofu, Dezzy Kapenya, Bekithemba Ndlovu, Innocent Chikoya, Harlington Shereni, Thulani Biya Ncube, Norman Mapeza, Kaitano Tembo, William Mugeyi, in defence.
The midfield is littered with some of Zimbabwe's best yesteryear talents in Calisto Pasuwa, Johannes Ngodzo, Kennedy Nagoli, Moses Chunga, Esrom Nyandoro,Tinashe Nengomasha, Joel Lupahla and Desmond Maringwa.
The organisers also assembled a mean attack made up of Edward Sadomba, Agent Sawu, Zenzo Moyo, Benjani Mwaruwari, Peter Ndlovu, Madinda Ndlovu, Wilfred Mugeyi and Ian Gorowa.
Some of the Barcelona legends expected to grace the match are Edgar Davids, Patrick Kluivert, Gianluca Zambrotta, Rivaldo, Deco and Gaizka Mendeita, among others.