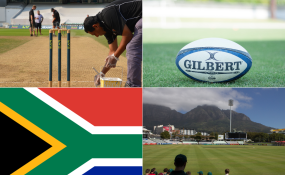 Photo: allafrica.com
By Antoinette Muller
The fallout from South Africa being announced as preferred host candidate for the 2023 Rugby World Cup is eye-roll inducing. Bids for sporting events are ridiculous pissing contests and the time and money involved in them could surely be better spent elsewhere. By ANTOINETTE MULLER.
For all of World Rugby's faults, it is miles ahead of cricket in many ways. It actively seeks to be inclusive and grow the game. Cricket, for the most part, comes across as a members' club.
But one thing cricket does get right - perhaps because it is so much more insular - is something resembling a rotation system for its global tournaments.
Cricket's system is far from foolproof, of course, but since World Cups began in 1975, every Test-playing nation now has hosted or co-hosted a Cricket World Cup at least once.
Then there are the World T20 events - and the Champions Trophy - and while the system is less rotation and more musical chairs, there is some sort of distribution of events across the board.
Rugby's distribution has been a bit more lopsided. The first tournament was only held in 1987 and has largely been distributed among the six "traditional" rugby nations....