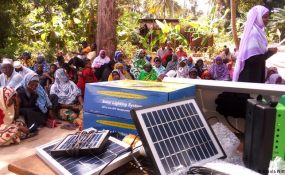 Photo: Ursula Wittekind/DW
By Ineke Mules
As COP23 kicks off in Bonn this week, African participants are working hard to ensure their voices are being heard, amid fears that the so-called "Trump effect" could make matters worse for developing states.
With COP23 well under way in Bonn this week, African states and organizations are making the most of their presence at the high - profile conference by voicing their concerns and ideas - and are using their influence to pressure developed nations to commit to more ambitious reduction targets for the sake of poorer, more vulnerable regions.
Africa is the continent which will likely be affected the most by climate change, with almost two-thirds of its population making its living off the land.
Yunis Arikan, the Head of Advocacy and Development from ICLEI - Local Governments for Sustainability (formerly known as the International Council for Local Environmental Issues), believes that African states have become increasingly vocal and proactive at COP conferences since the very first meeting in Berlin in 1995.
"Among our over 300 leaders, we have a significant delegation from Africa bringing their solutions and priorities," Arikan told DW, "I think in that sense a COP in Germany is fulfilling its mission to give voice to Africa and we are proud that they are coming not only to listen, but to speak and offer their solutions and expectations so that they are part of the process, not just outside the fence. Africa is one of the most vulnerable regions in terms of drought, but it also represents many opportunities when it comes to things like solar power generation."
Part of this increased involvement comes down to a change in attitudes towards climate change, as well as a larger young generation who are concerned for their futures.
"For many years sustainability and urbanization was a taboo. It was not considered a big priority for Africa. But there is a huge influx of people going to cities in Africa, as there is a young generation emerging," said Arikan, "There are a lot of ambitious leaders in Africa who would like to be connected to the world and who want to be a part of the global movement."
Holding industrialized nations to account
US President Donald Trump's decision to pull out of the Paris Agreement earlier this year has unsurprisingly dominated much of the discourse at COP23 - especially after Syria announced its plans to join the agreement, effectively isolating the US as the only country opposed to the pact. But for many countries in Africa, the US's withdrawal represents a dangerous disregard for poorer states who are more likely to be at the receiving end of the worst effects of climate change - a scenario made even more troubling by the fact that the majority of C02 emissions are generated by wealthier, industrialized nations like the US.
The Panafrican Climate Justice Alliance (PACJA) represents a coalition of civil society organizations from diverse backgrounds across Africa. Secretary General of PACJA, Mithika Mwenda, told DW that part of the organization's mission at COP23 is to push industrialized countries to set more ambitious goals to reduce their carbon emissions so that African states don't have to contend with the adverse effects of climate change.
"Our frustration, as a coalition of African countries, is that there is no strong signal of something being done," said Mwenda, "It's like a jamboree where people come, make proclamations, and after two weeks they go back to their normal lives. We are insisting that it is no longer business as usual. We need to acknowledge the expectations of poorer states and ensure that we are taking action."
Fighting back against the "Trump effect"
Mwenda also openly questions the presence of an official US delegation, out of fear it may prove to be a bad influence on other states that are already reluctant to take serious action on climate change - something he terms as the "Trump effect."
"[The US] withdraws from the Paris Agreement, yet they still want to show that they can negotiate the implementation framework," said Mwenda, "That's why we are calling in delegates here to sign our petition to kick Trump and his government out of these negotiations. We have to make it very clear that we are not kicking [out] the people of America. We are in solidarity with [those who oppose Trump's actions]. Our target is the Trump government."
Holding high-polluters to account - including the possibility of financial reparations for small-polluters, including African countries - is likely to be another flashpoint issue at this year's COP, especially with island nation Fiji at the helm.
"It is quite symbolic that a small island state is hosting COP23,"Mwenda told DW, "[Developed nations] hold a lot of power in terms of determining what is on the agenda... The problem is the apathy of industrialized countries. We want to challenge them on that."