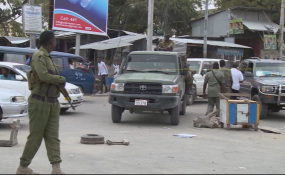 Photo: aljazeera
US citizens working in Mogadishu including several Somali Americans have left the Somalia capital after the US mission in Somalia issued a travel warning, Radio Dalsan reports.
Radio Dalsan confirmed with Aden Abdulle International Airport officials that a significant number flew out to Nairobi on Monday & Tuesday morning using UN chartered planes and commercial flights.
On Saturday the US mission released a statement warning on specific threats on US citizens living in Mogadishu.
"Due to specific threat information against U.S. personnel on the Mogadishu International Airport, the U.S. Mission to Somalia has directed its non-essential U.S. citizen employees to depart Mogadishu until further notice" it stated.
"The security situation in Somalia is extremely unstable, and the threat to all U.S. citizens in Somalia remains critical" it added.
Somalia has a significant number of Somali Americans living and working in the horn of Africa country including President Mohamed Abdullahi Farmaajo.