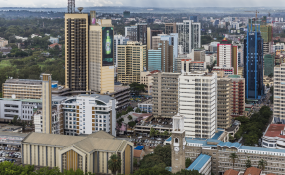 Photo: Ninara/Wikipedia
By Andrew Wasike, Meggie Morris
Kenya's opposition leader Raila Odinga has called on supporters to boycott firms that allegedly back President Uhuru Kenyatta. Economists warn of possible dire consequences.
The boycott targets giants in the telecommunications industry and companies that deal in dairy products, cooking fats and oils. The head of the main opposition coalition, the National Super Alliance (NASA) Raila Odinga took the lead, publicly migrating from the Safaricom phone network, whose client he had been for the last ten years, to a new provider called airtel.
Odinga accused the companies concerned of backing President Uhuru Kenyatta's reelection and abetting "the subversion of the will of Kenyans."
It is too early to say how many people have followed the boycott, but already economists are warning that, if widely heeded, it could lead to a massive loss of jobs.
This hasn't deterred many of Odinga's supporters. Millicent Odhiambo of Kibera, in Nairobi, told DW that she was about to follow his example. "I have never owned an airtel line. I have been a faithful client of Safaricom. But today I am moving. Anybody who thinks this is short term is mistaken. We are going to go on until we see Safaricom on its knees. We are going to go on until we see Bidco on its knees. We are going to go on until we see Brookside on its knees," Odhiambo said, naming the boycott's three main targets. Lawmakers said Safaricom was targeted because it had helped transmit election results. Brookside Dairy is partly owned by Kenyatta's family and partly by French dairy giant Danone.
'We are moving'
Phillip Ouma, another staunch opposition supporter, said that even though jobs were at stake, the boycott was for a better cause and sacrifices must be made. "First we boycott. The next stage is "kuhama sasa," which means "now we are moving." And that is why I am at this shop. Here I am changing from Safaricom to airtel. We must teach Safaricom a lesson," Ouma said, accusing the company of meddling in politics and siding with the governing party Jubilee. "They helped them to rig our elections," he said.
Jane Atieno told DW that she will miss her favorite brand of milk. "I stopped drinking Brookside milk the day Raila Odinga told us not to. As you can see, I have bought milk from other companies."
Odinga, who withdrew from the October 26th presidential election, has vowed to add more companies to the boycott list. He said that if there is no justice for the people, there should be no peace for the government and its supporters.
The citizens suffer
As growing numbers of opposition supporters heed Odinga's call, the companies have started to complain. Four days after the start of the boycott, the country's biggest telecom service provider Safaricom says it has started to incur losses.
Esther Muchemi, chairperson of the Safaricom telecommunications company dealers' association, said that they have felt the pinch. She warned that more than a million jobs are at risk. "We can say for a fact that we have experienced a decline, even at the individual dealer level. We can almost with certainty report that, yes, the politics are affecting the common citizen, including us. This call is likely to affect all the businesses. The economy is being affected and we dealers are being affected."
Kenya's vice president William Ruto has called the boycott an "extortion racket-style scam" and assured the affected companies of the government's support.
The politics and controversies of Kenya's 2017 general election
NASA's attempt to oust ruling party
The National Super Alliance (NASA) has announced former Prime Minister Raila Odinga, 72, as its presidential candidate. Odinga, a veteran opposition leader, will face his last shot at the presidency after losing three past elections. NASA agonized over which flag-bearer will attract the most votes from key ethnic groups.
The politics and controversies of Kenya's 2017 general election
Taking on new members from key areas
NASA is going up against current President Uhuru Kenyatta, who is seeking a second and final term with his ruling Jubilee Party. Last week, the alliance ushered in Bomet Governor Isaac Ruto as a new co-principal. The leader of the southwest region brings with him support from Kenya's Rift Valley, the largest province in the country.
The politics and controversies of Kenya's 2017 general election
Voting a decade on from deadly political violence
Kenya's 2017 general elections are scheduled for August 8. This year, around 19 million Kenyans have registered to vote, pending a final audit to remove dead voters or duplicated listings. The vote comes a decade after disputed poll results fueled fighting that left more than 1,100 dead and hundreds of thousands displaced.
The politics and controversies of Kenya's 2017 general election
Unexpected voter turnout
Last week, unexpectedly large voter turnout in Kenya's ruling party primaries forced overwhelmed authorities to reschedule the vote. President Kenyatta said his Jubilee Party took the "unprecedented and difficult decision to cancel the entire nominations exercise." The high turnout led to a shortage of voter materials. Voting resumed on Monday.
The politics and controversies of Kenya's 2017 general election
Election-fueled violence
This year's primaries to choose candidates for local government and parliament have already been affected by violence. Dozens were injured earlier this month at the Nairobi headquarters of opposition party Orange Democratic Movement when supporters of one senate nominee drew guns claiming her rival had already secured the party ballot. Last week, President Kenyatta warned against ongoing violence.
The politics and controversies of Kenya's 2017 general election
Allegations of fraud
This year's vote has also been rocked by allegations of fraud. Opposition leader Raila Odinga claimed he discovered his own identity card had been used to register other people. In 2013, electronic tallying equipment failed, sparking concerns of vote rigging. Kenyatta approved a law in January requiring manual voting backup options should electronic systems fail.
The politics and controversies of Kenya's 2017 general election
The role of ethnicity and tribalism
People in Kenya vote largely along ethnic lines. Political alliances depend on who can lure votes from Kenya's five most influential ethnic groups. Kenyatta is seeking a final term, running alongside his deputy William Ruto. The two men allied in 2013, bringing together two ethnic groups: Kenyatta's majority Kikuyu and Ruto's Kalenjin, who had violently clashed in 2007.