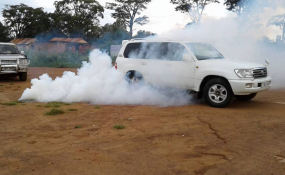 Photo: Julius Ocungi/Daily Monitor
By Julius Ocungi
Gulu — Former Forum for Democratic Change [FDC] presidential candidate Dr Kizza Beisgye has eluded arrest after escaping unnoticed from police officers in Gulu District.
Dr Besigye on Wednesday evening evaded arrest at Kaunda parade grounds in Gulu Municipality after police blocked him from holding a rally for FDC party presidential candidate Mr Patrick Amuriat.
The four time presidential contender had been held static in his car for nearly three hours since 3:00pm by armed riot police officers who also double shielded his car with a police firefighting truck and police patrol pickup.
Dr Besigye had been accompanied at the venue by FDC secretary for mobilization Ingrid Turinamwe, Gulu Woman MP Betty Aol and Kawempe Mayor Mubarak Munyagwa who were all blocked from accessing the rally venue.
Armed riot police officers deployed at the venue earlier fired teargas canisters to disperse a crowd of youth who wore red ribbons as they cheered the opposition politicians who had just arrioved at the venue.
Police also lobbed tear gas canisters under the cars of the opposition politicians to have them come out of their vehicles and abandon the venue but in vain.
For more than two hours police led by the acting Aswa Regional Police Commander, Mr Osteen Wanyama failed to convince the opposition politicians to leave the rally venue. Dr Besigye in particular locked himself in his car refusing to talk to Mr Wanyama.
But at about 6:30pm when Mr Wanyama readied his armed officers to have Dr Besigye's car towed to Gulu Central Police Station to record a statement, he realized he [Besigye] wasn't in the car.
The mysterious disappearance of Dr Besigye of prompted a frantic pursuit of Mr Amuriat's car that had left a few minutes earlier.
The FDC publicity secretary for North Mr Kelly Komakech told Daily Monitor in an interview that police failed to trace the route Mr Amuriat's car had taken.
"Dr Besigye is gone; he beat security of the ill trained police officers including their commander. They tried following Besigye but couldn't get him," Mr Komakech said.
But the Aswa Regional Police Spokesperson Mr Jimmy Patrick Okema in an interview refuted claims that Dr Besigye sneaked away without their knowledge adding that they had an agreement with him to leave the venue.
He said they blocked the rally because it wasn't a consultative meeting on age limit removal but rather an FDC party rally which the police had not been adequately informed about.