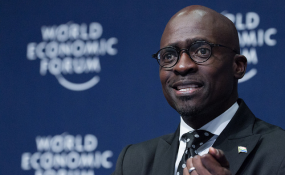 Photo: World Economic Forum
analysis
By Rebecca Davis
R50-billion. That's how much the government is currently missing in taxes. Announcing the establishment of an urgent inquiry into the cause of the hole in SARS' revenue on Tuesday, Finance Minister Malusi Gigaba suggested that one of the drivers may be "weakening tax morality". Many would say that the problems lie more within SARS and the economy than the tax base, but there have been rumblings for some years about a possible tax revolt by South Africa's increasingly disenchanted taxpayers. Does the shortfall in SARS' collection suggest that some form of tax-based mutiny may indeed be on the go?

"We the people of South Africa have had enough of wasteful government expenditure and corruption and we will hold the government to ransom to enforce change," declares the mission statement of a Facebook group called "Tax Revolt South Africa", which has just over 20,000 followers.
Such talk is not new.
"There are people in South Africa who are organising a tax revolt, and make no mistake, it takes one single action and the entire system will collapse," the late Inkatha Freedom Party MP Mario Oriani-Ambrosini warned Parliament's Department of Justice budget vote debate in July 2014. "We, the...