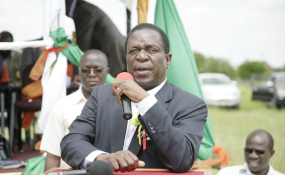 Photo: The Herald
By Kitsepile Nyathi
Zimbabwe's ousted Vice-President Emmerson Mnangagwa was blocked from leaving the country, a day after President Robert Mugabe fired him for 'disloyalty and deceit', reports said on Wednesday.
According to two privately owned daily papers, Mr Mnangagwa was turned away from the Mozambican border on Tuesday by police, who were under instructions not to let him leave the country.
"He was here (at the Forbes Border Post) by 6am when the border opened, but officials refused to allow him to pass the exit gate and he had to retreat," NewsDay said, quoting an unnamed immigration official.
"He and his team were among the first people to arrive at the border post but already there was an instruction to the effect that he should not leave the country.
"Mnangagwa was travelling in a Mercedes Benz ML together with his son and three other people."
The paper claimed the former VP, once regarded as President Mugabe's most likely successor, had tried to disguise himself through 'simple dressing.'
"He was wearing sunglasses, a white hat and a black jacket," NewsDay added.
"He was dressed so simple such that he could have succeeded to leave the country without being noticed had it not been for the passport of his son and alertness on the part of the police."
Facing the axe
The story was corroborated by another privately owned newspaper, the Daily News. Police could not immediately comment on the claims.
Reports about Mr Mnangagwa's alleged attempts to leave the country emerged as the ruling Zanu-PF party's polituburo prepared to meet on Wednesday to discuss the politician's expulsion from the party.
State-owned media reported that so far nine out of 10 Zanu-PF provinces had passed resolutions demanding that Mr Mnangagwa must be fired from the party, just like his predecessor Joice Mujuru, who was shown the door in 2014.
Several other Cabinet ministers and legislators were also facing the axe for allegedly supporting Mr Mnangagwa.
First Lady Grace Mugabe wants to take over as the country's second vice-president and has received the backing of Zanu-PF's major structures.