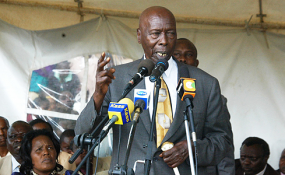 Photo: The Nation
By Maureen Kakah
Moi Day is still a public holiday which should be observed.
This is according to High Court Judge George Odunga who on Wednesday delivered a ruling stating that omission to have October 10 observed as public holiday is an illegality and a contravention of the Public Holidays Act.
However, as if putting a disclaimer to his decision, the judge said that it is not up to the court to prescribe the manner in which the day is to be celebrated.
LAW
The judge said that the Parliament needs to amend the law if not the October 10 continues to be a public holiday.
"Unless Parliament amends Schedule 1 of the Public Holidays Act or the minister substitutes the same for another date, October 10 in each year shall continue being a public holiday, " he said.
He also said that regardless of his orders, the fact that Moi day has not been observed since after 2010, that should not be considered as unlawful.
The judge delivered the ruling in a case filed by Gragory Oriaro Nyaechi.
Mr Nyaechi had sued Cabinet Secretaries for Interior and the East Africa Community, Labour and social protection ministries as well as the Attorney General.
The Federation of Kenya Employers (FKE) and the Central Organisation of Trade Union (COTU) were listed as interested parties in the case.
Mr Nyaechi argued that the fact that the law was never repealed there was a blatant ignorance of that day.
LEGAL OBLIGATION
He also claimed that there was a likelihood that employees would be denied their holiday entitlements since they sign a contract indicating their off days.
But the sued parties told court that there is no legal obligation to ensure a public holiday is observed.
In his ruling, the judge agreed with Mr Nyaechj that public holiday computation dictates legal time and affects contents of an employment contract.
He however said that there is a difference between a public holiday and a national holiday.