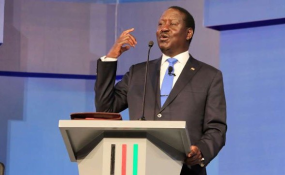 Photo: Jeff Angote/The Nation
By Chris Wamalwa
National Super Alliance (Nasa) leader Raila Odinga arrived in the US Wednesday morning to begin a series of high-stakes meetings with the US Congress members and Kenyans living in the US.
On arrival, Mr Odinga held several high-level, closed-door meetings with House and Senate Congressional Committee officials "regarding the state of Kenya", according to dispatches from his team.
DIALOGUE
It is believed that there is total confusion in Washington DC concerning Kenya's October 26 repeat presidential poll.
While not much has been said by the Donald Trump administration, it is understood that there are some lawmakers, especially Democrats, who are deeply concerned by the goings-on in Kenya.
Some Congressmen, led by Chris Coons (D) of Delaware and Cory Booker (D) of New Jersey, are calling for dialogue between President Uhuru Kenyatta and Mr Raila Odinga to end the impasse.
The two have expressed concerns that Kenya's political standoff could worsen if not addressed urgently.
Mr Coon and Mr Booker are some of the lawmakers that Mr Odinga is scheduled to meet.
SPEECH
However, the Nasa leader, who commands a lot of respect among government officials both at the state and federal levels, will not address the Congress as had earlier been reported because he is not a head of state.
Mr Odinga's first major open meeting is the much publicised keynote speech, in a lecture-type setting, on "Overcoming Kenya's political crisis and advancing democracy , rule of law and stability".
He is scheduled to deliver the speech today at the headquarters of Center for Strategic and International Studies between 9:30am-11am DC time.
According the former premier's handlers, the speech is to explain his reasons for withdrawing from the October 26 repeat election.
He will also outline his next steps while offering some kind of prognosis for "Kenya's democratic health, peace and stability".
DEMOS
But by late Wednesday, there were rumours that supporters of President Kenyatta in DC were planning to stage demos at the venue.
According to social media reports, the protests-- mirroring those that took place in London mid last month when Mr Odinga visited the UK-- are meant to cast President Kenyatta's arch-rival in badlight.
This prompted Nasa supporters in the US, under the group Nasa USA Team, to scramble to shore up their numbers by sending out social media messages urging members to travel to Washington DC to counter the alleged Jubilee plan.
"Nasarites, come out in large numbers to welcome Baba and also to counter Jubilee supporters ...," one such message send out on WhatsApp said in part.
The Nation could not, however, authenticate this rumours as we were unable to reach both ambassadors Robinson Githae and Macharia Kamau (UN), who were accused being behind the demo plan.
MEETING
Apart from the speech at the Center for Strategic and International Studies, Mr Raila will also meet with his supporters in DC, New Jersey/New York before he returns to Kenya at the weekend.
On Friday, he will be speaking to Nasa supporters at Cococabana Bar and Grill, 2031A University, Boulevard E, Hyattsville, Maryland, between 6 and 8pm.
The event is being organised by DC Metropolitan ODM chapter.
"This is an opportunity for Kenyans to come and hear from our enigmatic leader who, over several decades, has stood up and sacrificed for freedom, liberty, justice and democracy for all Kenyans," the group said in a statement to the Nation.
On Saturday, Mr Odinga is scheduled to hold two meetings in New Jersey, courtesy of Nasa USA Team.
The first one is a town hall meeting with the diaspora at St Patrick's High School Auditorium - 492 Bramhall Avenue Jersey City, NJ 07304 between 2pm and 6pm.
$100 DANCE
According to organisers, this is an open public meeting.
Later on in the evening, the former premier will be a guest of honour at a $100 Dinner Dance that starts at 8pm to 1am at the Clinton Manor Banquet Hall 2735 US-22 Union, New Jersey.
"The cover charge of $100 includes food, drink and dance. Because the space is limited, RSVP is required and payments through Cashapp is encouraged. No payments will be accepted at the door," Nasa USA Team said in a statement.