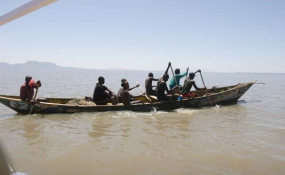 Photo: Daily Nation
By Barack Oduor and Mohamed Ahmed
Ugandan authorities on Wednesday released five of the 17 fishermen arrested on Monday night, even as Kenyan police chief suggested they may have breached the laws on fishing.
The fishermen had been detained on two Ugandan islands.
FINE
The five were released after paying a fine Ugandan police imposed on them, according to the Homa Bay County Beach Management Network Chairman Edward Oremo.
"The five fishermen were released after parting with a total of Sh55, 000. Three have come to Remba while we are still organising for transportation for the other two to return home," he said.
The fishermen were arrested when they were fishing in Lake Victoria near Remba Island in Homa Bay County on Sunday and Monday.
They were taken to Riabana and Kalangala islands in Uganda.
Their leader said they were not charged in court but were fined Sh11, 000 each.
LAW
The new development happened even as Inspector-General of Police Joseph Boinnet told reporters in Mombasa County that the arrested fishermen may have breached Ugandan laws.
"I may have no full details of what exactly happened but the fact is we all must abide by the law. Those persons might have been arrested for breaching some laws but I am sorry I do not have full facts as of now," he said.
Mr Boinnet said the government had had talks with Ugandan authorities and it was agreed that both Kenyans and Ugandans sharing an Island should obey the law.
"We once talked with the (Inspector) general of police of Uganda and agreed that anybody going on either sides of the two countries against the law must be prepared to face the law. But for now I do not have specific details on the recent case," he added.
He spoke at the Mombasa Port where he commissioned surveillance boats that will be used to help curb drug trade through the Indian Ocean.
DETAINED
Of the 12 detained fishermen, six were detained on Kalangala Island while the other six were at Riabana Island.
Suba North OCPD Wilson Nanga confirmed that five fishermen had been released.
The arrest elicited controversy with local political leaders demanding adequate protection for residents as they fish.
Suba North MP Millie Odhiambo and her Suba South counterpart John Mbadi accused Mr Boinnet of looking the other way as Ugandan authorities harassed Kenyan fishermen.
"We demand that this kind of mistreatment stops immediately. We demand that the police assure our people of security," Mr Mbadi said.
"The police cannot claim to be for all of us yet when our people are mistreated, they don't seem to care," added Ms Odhiambo.