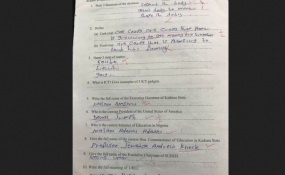 Photo: Premium Times
By Christiana T. Alabi
Kaduna — However, Governor Nasir El-Rufai said there is no going back on education sector reforms in the state.
He said he stands firmly by the long-term interests of the two million pupils in public primary schools, and would not be derailed by the agitation of 21,000 unqualified teachers.
He said the process of recruiting 25,000 new teachers is going well, noting that retraining unqualified teachers on the pay roll is an abdication of duty.
El-Rufai who spoke through the permanent secretary of the state Ministry of Education, Adamu Mansur condemned the protest warning that the government will not allow anyone to get away with criminal activity under the cover of industrial relations.
"The NLC led thugs to vandalize the Lugard Hall premises of the Kaduna State House of Assembly. Officials of the Trade unions also forcibly closed schools such as the Katsina Road LEA School and sending the pupils to the streets.
"There was also blockage of highways by pupils and secondary school students, at the behest of their teachers as well as abdication of duty by some teachers who have left their pupils unattended to.
"NUT officials were previously warned about the consequences of illegal activity, including the unlawful use of pupils for protests, forcible closure of schools and engaging in unauthorized demonstrations."
"The shameful events at the Kaduna State House of Assembly when union thugs destroyed public property and attacked honourable members is a visible and dangerous escalation.
"Security and law-enforcement agencies have the names of the individuals to be investigated for the organized actions that endangered school pupils, forcibly closed schools and attack on the Kaduna State House of Assembly."
He said the names of individuals putting pupils at risk, disrupting schools and vandalizing public property have been forwarded to the law-enforcement agencies; adding that the Kaduna State Government is filing complaints for criminal violations of several sections of the Penal Code, including: Section 59: Criminal Conspiracy, Section 73: Promoting Unlawful Assembly, Section 77: Disturbance of Public Peace, Section 78: Inciting Disturbance and Section 162: Obstruction on Public Way.
He added that charges may also be filed for violations of the Young Persons' Law.
"We have a responsibility to deliver quality education to the 2million pupils in our public schools. The parents of these pupils have confidence in the reforms taking place in the education sector. Therefore, retraining unqualified teachers on the pay roll is an abdication of duty. The responsible thing to do is to disengage them on terms in their conditions of service and replace them with qualified persons."
"No amount of protests will deter the government from recruiting qualified teachers, while giving disengaged teachers the entitlements specified in their terms of service.
The governor said more than 17,000 applications have been received by the Kaduna State Universal Basic Education Board and more are expected before the deadline of November 19, 2017."